A belting at the hands of reigning NRL premiers last weekend means the NZ franchise's promising season is in danger of spluttering to a halt early. Making the playoffs is now becoming a tough task.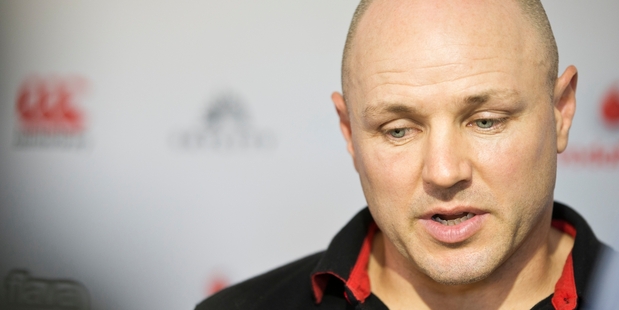 The Warriors were knocking on the door of the NRL top four less than a month ago. But the past three weeks has seen them plummet off the pace with a patchy win over the awful Cronulla Sharks and two disastrous defeats to the lowly Newcastle Knights and Sydney Roosters, the premiers. They now need to win their remaining games against the Titans and Panthers to give them any chance of a top-eight finish. Here are the five reasons they have folded.
1 Disruption and upheaval
The controversial departure of former coach Matt Elliott - and an accompanying public and embarrassing spat between high-profile owners Eric Watson and Owen Glenn - saw Andrew McFadden take charge ahead of their round six encounter against Canterbury.
"Cappy" wasted no time in stamping his mark on his inherited squad, dropping Chad Townsend and Feleti Mateo and giving Thomas Leuluai his first start at standoff. It took a couple of weeks for the side to find their feet under their new coach and after twin defeats they went on to win seven of their next nine games.
During this stretch, Leuluai's recurring groin injury gave Townsend an extended run in the halves, and Mateo and Konrad Hurrell impressed on returning to the top grade, while centre Dane Nielsen was another selection casualty. Hurrell and Ngani Laumape eventually struck a strong midfield pairing but the latter's three-week suspension earned Nielsen a reprieve.
Just when combinations had a familiar look about them, a dip in form and injuries combined to see David Fusitu'a exit as Laumape returned. Shaun Johnson's groin injury then ruled him out for three weeks, and a torn hamstring sidelined Hurrell for a fortnight, prompting further changes when consistency was needed.
A decline in form followed against the Sharks, Knights and Roosters, in which Leuluai reclaimed the No6 jersey, and although Johnson returned for the match against Newcastle, injuries to Tuimoala Lolohea and Fusitu'a have stretched their outside back resources to the limit.
Add to this the fact that experienced utility Jerome Ropati was forced to retire and Kevin Locke departed for Salford in less than ideal circumstances and you have a season of instability.
2 Inexperience
While the Warriors boast some of the best home-grown and up-and-coming talent in the NRL, the likes of rookie backs Fusitu'a, Laumape, Hurrell and Townsend are still learning and have some way to go before being consistent first-grade performers.
Throw in the likes of forwards Sebastine Ikahi'ihifo, Suaia Matagi, Sione Lousi, Charlie Gubb and Siliva Havili and it's clear why the addition of Storm and NSW second-rower Ryan Hoffman for 2015 was important to the coaching staff.
Captain Simon Mannering is the side's most consistent performer but needs greater support and leadership from his fellow forwards.
Johnson, too, is still adding facets to his play. In his absence, a gritty display in going down to Manly and a big win over the woeful Raiders may have suggested otherwise, but remove him from the side and they lose a significant amount of self-belief, strike-power and organisation.
3 Mental fragility
A mixture of that inexperience and a lack of mental fortitude has cost the Warriors dearly on several occasions this season.
Their round six 21-20 defeat to Canterbury saw them unable to execute a field goal before Trent Hodkinson sealed the game for the visitors, while a late flurry in their return clash in Hamilton four weeks later was too little, too late.
The Warriors looked well in control after a dominant first-half against the Rabbitohs in Perth, before conceding five tries in the last 21 minutes to lose 34-18.
Similarly, their run up the NRL ladder was halted by a tenacious and determined Broncos side in round 19, when a second-half double to Ben Henry put them ahead 22-18 with 30 minutes to play.
However, Brisbane wing Dale Copley ruined their evening with two tries in two minutes to give his team a match-winning 28-22 lead.
A 22-12 defeat to the ruthless Manly side can be forgiven, but a listless second-half effort against the Sharks in round 22 saw them held scoreless, and they were fortunate to escape with two competition points.
The 28-22 defeat to Newcastle highlighted their defensive frailties and although they fought back hard from 14-0 down they fell short when it mattered.
Sunday's 46-12 capitulation to the Roosters, after trailing 16-6 at halftime, was nothing short of an embarrassment and all but a few players can hold their heads high in the wake of that flat and submissive display.
How they react in this week's must-win match against the Gold Coast Titans at Mt Smart Stadium, in their final home game of the season, will reveal much about the strength and character of the side.
4 Lack of depth
Lingering injuries from the 2013 World Cup meant Leuluai and Locke were robbed of any pre-season training, while Ropati's cruel luck put the squad under further pressure.
Nielsen's inability to recapture the form that saw him enjoy premiership success with Melbourne left his rookie centre and wing partners without a creative inside force and saw the Warriors rely heavily on their right-side attack of Johnson and Hurrell.
To their credit, the likes of Henry, Hurrell and Laumape have come on in leaps and bounds, but again, take one of them out of the equation and the cupboard begins to look a little bare.
It's no wonder the club put out feelers for Steve Matai and one wonders whether the likes of the Sydney Roosters' edge runners would have enjoyed such freedom if someone of his reputation was lurking out wide with a big shoulder.
As mentioned earlier, wing remains a concern, after Glen Fisi'iahi's season was ruined with a shoulder injury and Fusitu'a suffering the same fate. Throw in Locke's departure and finding a classy finisher remains a headache before the last two rounds.
5 Inflated expectations
The club's hopes looked to have improved under McFadden but the gloss has been stripped away after nine wins and eight defeats under his watch.
Overall their record is split evenly with 11 wins and 11 losses to see them clinging on to 10th spot.
Winning seven out of nine games between round eight and round 18 even had Australian critics excited. But since then they have won just two of six games, against the lowly Raiders and Sharks, losing to the Broncos, Manly, Knights and Roosters. Byes in round 14 and 17 proved invaluable and enabled them to hold pace with the top eight contenders, while they have also benefited from a draw that saw them face competition heavyweights Manly, the Roosters and Rabbitohs just once.
In reality, not much has changed from the position they were in at the same stage of last season under Elliott, where they had registered 10 wins and 12 losses after 24 rounds, before finishing 11th overall.
Both are significantly better than what the club achieved at the same point of the 2012 campaign under Brian McClennan, where they had a season-high eight victories and 14 defeats, before shutting up shop early to lose their last eight matches for a 14th-place finish.
With such a young side having to endure a difficult and tumultuous start to the year they have done well to resurrect their season and remain in the fight to claim a finals position. As they showed in 2011, when they made a shock grand final appearance from sixth place - once they are in the playoffs, anything can happen.