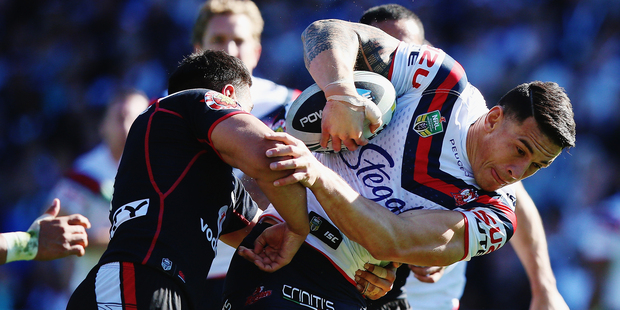 Sydney Roosters back-rower and dual code international Sonny Bill Williams made an early return from injury to ensure he would play a final NRL match in New Zealand against the Warriors yesterday.
Williams sat out the previous four games after breaking his thumb in the Roosters' upset loss to Newcastle in round 20 and was not expected to return for at least another week. A burning desire to make one last showing in front of friends and family in Auckland, before returning to rugby at the end of the season, saw Williams insist on making himself available to coach Trent Robinson.
"I was pretty hungry to get back here and play. Coming back to New Zealand, I love playing at Mt Smart, and obviously it was a bit more enticing to try and get back for this game. I was just happy to blow a few cobwebs out and move on towards the finals," Williams explained.
After the match, Robinson revealed how his star forward put behind a taxing week of off-field duties and a lack of game preparation to fill a bench spot for his team.
"Sonny was pushing hard for last week but when we went to the [thumb] specialist it was a no-go. He had a big trip to Samoa where he did some really good things for the NRL and Samoa, promoting the game and also education in schools and then had to fly back on Tuesday and then get on a plane on Friday again," Robinson said.
"It was a big week for him. It was up to him whether he played, so he could have even had the next two weeks off, but he made a call that he wanted to come back this week which for him was pretty important.
"But he was also humble enough to know that we were going to start him off the bench just to ease him back in there."
Williams said there was never any doubt he would take the field and praised the efforts of his teammates, who have now put together four straight wins over the Dragons, Titans, Tigers and Warriors, to sit comfortably in third position on the NRL ladder.