McFadden says greater effort and intent will help restore momentum in clash against Roosters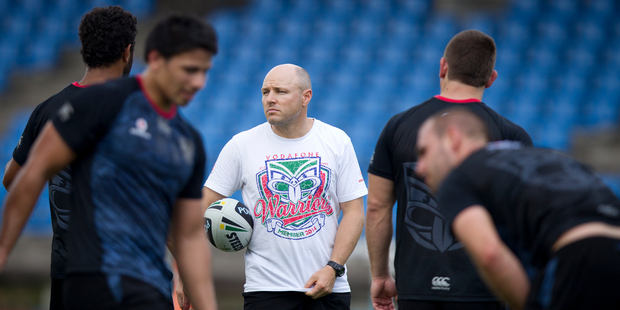 Warriors coach Andrew McFadden is confident his side have the talent and strike-power to bounce back from two below-par performances against the Sydney Roosters at Mt Smart Stadium tomorrow.
A patchy win over Cronulla and a disappointing loss to Newcastle have raised concerns that the Warriors are dropping off at the wrong time of the year but McFadden is optimistic they can regain some momentum over the last three rounds of the regular season.
"We're still in the eight [and it's] still well within our control. We've just got to perform well and if we perform well, we can turn it around very quickly," McFadden said. "We still know we've got enough strike and talent in this team to do something, we've just got to go back to what works for us.
"There's no mystery in here, there's some little attitude adjustment and mindset things that we need to work on and I know we can turn things around very fast."
McFadden went on to explain while he was pleased with his team's ability to work within defined structures and game plans, he is looking for greater effort and intent. That could apply to their go-forward as well as their defensive work, two areas that have been lacking in the past fortnight. When the Warriors execute effectively in those departments they invariably dominate the opposition, while finding points to win a match is not such an issue as they managed to run in five tries against the Knights.
"It's more about mindset adjustment, about what's important for us in a game. We've worked really hard on a lot of the technical aspects of our game and maybe we've just dropped off on those areas that we've been good at, which is effort and intent.
"It only takes just to acknowledge it usually to turn it around and the boys are going to be really determined this week."
Better line speed and tackling in twos and threes remain high on the agenda, while big Ben Matulino's shift into the front row should ensure they make some dents in the Roosters' line.
"Yeah, a bit of [line speed] and a bit of making sure we get more numbers in the tackle, which we've just gone off a bit. We identified that we probably didn't bend the line as much as we should have in the middle and Ben certainly gives us that, so he's been put in there for that reason."
Matulino's positional shift also puts him against fellow Kiwis test front row contenders Jared Waerea-Hargreaves and Sam Moa, two physically aggressive characters who will need to be contained. McFadden denied Matulino, who is making his 150th appearance in Warriors colours, had been tasked with keeping the Roosters' aggressors in check and insisted it was a 13-man job.
"No, no one specifically. I think that's going to be a collective effort. We're going to really need a team performance this week and I know the boys are going to be really focused on that."
Matulino admitted he had been keeping a close eye on his rivals' form, and the need to limit their impact. "I think Sammy and Jared have been good, especially Jared, last week I watched his game. Obviously he's in that aggressive mood again and that can be really dangerous for us so we've got to limit that."