Back-rower was injured for much of 2011 season being scrutinised by Asada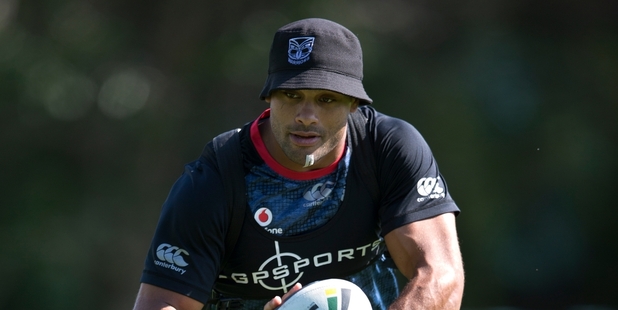 Warriors and former Cronulla back-rower Jayson Bukuya is "pleasantly relieved" at not being included on Asada's list of 17 past and present Sharks players issued with show cause notices over their suspected involvement in the club's controversial 2011 supplements programme.
Initial reports out of Sydney on Wednesday, following a series of meetings between Asada and the NRL, incorrectly included Bukuya among the list of players served with notices before his name was eventually removed.
The 25-year-old was not available to speak to media yesterday but his agent Sam Ayoub said his client was pleased to have the matter resolved.
"I spoke with Jayson last night [Wednesday] and he is pleasantly relieved," Ayoub said. "Don't ask me why or why not [he didn't receive a notice] because I'm not in a position to talk about it. But in saying that we're relieved for Jayson that he didn't receive a show cause notice."
Bukuya had every right to feel relieved, after having his name dragged through the mud over the past 18 months, since the anti-doping body first announced in February 2013 that a year-long investigation had uncovered widespread use of drugs in Australian sport.
The 17 players named are now weighing up their options and face the prospect of spending up to two years on the sidelines. Reduced penalties, including backdated one-year or six-month suspensions, are believed to be on offer if players admit to taking a prohibited substance and provide "substantial assistance" to Asada.
"Every player that had that hanging over his head always had something to worry about," explained Ayoub. "But from day one, Jayson [said] he can't recall what happened and what didn't happen, what took place and what didn't take place."
Crucial to Bukuya's fate is that he was out injured for much of the 11-week period that spanned Asada's investigation, during which the Sharks employed sports scientist Stephen Dank to implement a regime of peptides.
"He was out injured at that point in time so from memory he wasn't involved in anything so he's certainly relieved, yes. The fact that he wasn't on the team sheets around that time probably worked in his favour," said Ayoub.
Warriors general manager of football Dean Bell insisted the club was unconcerned about what was a protracted and uncertain situation involving one of their players and said Bukuya had done his best to remain focused on football.
"We never worry about what we can't control so it was just business as usual and Jayson was just carrying on. Until he knew otherwise there was nothing to react on really. From the club's point of view it wasn't an issue."
Brisbane-born Bukuya was in his teens when he debuted for Cronulla in 2008 but rose to prominence in 2011, after overcoming a horror stretch that saw him endure two shoulder reconstructions, a broken leg and a syndesmosis injury. He went on to play 59 games for the Sharks and scored 13 tries. He has also featured in two World Cup campaigns for the Fijian national side, playing nine tests in total.
Bukuya joined the Warriors this year on a two-season deal and after overcoming a toe injury and concussion earlier in the season, returned to first grade in last Sunday's loss to Newcastle, and has been named in an extended squad to play the Roosters at Mt Smart on Sunday.