Coach holds up McCaw's outstanding workrate and says supporters should relax and have faith in outstanding leader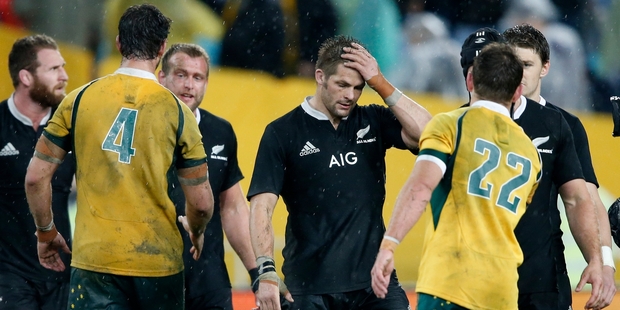 Steve Hansen has a theory about some of the public's negativity surrounding his captain Richie McCaw following the Crusaders' Super Rugby final defeat and which, in some quarters, will have gathered pace following the All Blacks' poor performance against the Wallabies in Sydney.
Saying McCaw, 33, is over the hill, conceding too many penalties, not as good as Michael Hooper ... all of it is based on fear, Hansen reckons. Fear that McCaw will fail, that the team will fail. It is a form of self-protection, he thinks, but it is, in his opinion, entirely unnecessary.
Watch: 'Ref made mistakes'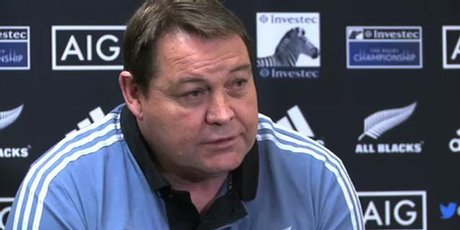 McCaw's defensive effort in Sydney was outstanding, and it needed to be.
He made 20 tackles, the highest number for an individual in the Rugby Championship last weekend, and missed zero, as the All Blacks clung on with a man short in the final minutes and with the Wallabies high on confidence and even higher on possession levels. He made two turnovers. Yes, he was penalised three times, but it seems referees are beginning to have pre-conceived ideas about McCaw, for often he is penalised wrongly.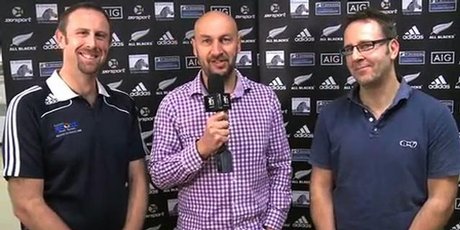 Craig Joubert's penalty in the final minutes of the Super Rugby final is a case in point. McCaw was entitled to put his hands on the ball for there was no tackle, therefore no offside line applied. Often, it seems, the skipper has a greater knowledge of the rules - and spatial awareness in an often chaotic breakdown environment - than the officials, but that is another matter entirely.
"I'm not sure they want him to fail, I think they're scared he will fail," Hansen replied when asked about the public backlash aimed at his skipper before the draw at ANZ Stadium. "I think that's the actual case of the matter. They're worried that here is this icon, probably the greatest player we've ever had, [we've] been hugely successful with him in the team - what if he does fail? What happens to the team? I think it's more that than the other. The selectors haven't got that fear at present. He's playing really well. We're probably in the situation where people just need to relax a bit.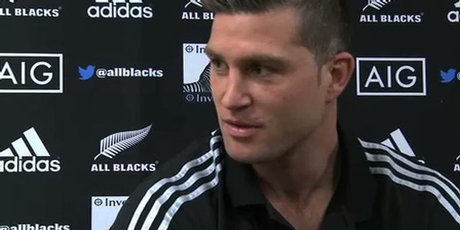 "He's not superhuman, he does make the odd mistake. But his rugby career stands for itself. He as a bloke stands for himself. I think people just need to have faith in him and have faith in what we're doing."
A day earlier, Hansen had spoken of McCaw's special qualities, including his workrate and leadership for the Crusaders as they failed by the narrowest of margins against the Waratahs.
"His form's bloody outstanding. I don't know who's been watching him that's saying he's a spent force. Just watch him, don't watch the game, just watch him and see what he does. He's doing plenty.
"A few people have got a wee bit hysterical about a penalty right at the end of a game, but we've already had the referee come out and say it's wrong. There's no offside line if there's no tackle.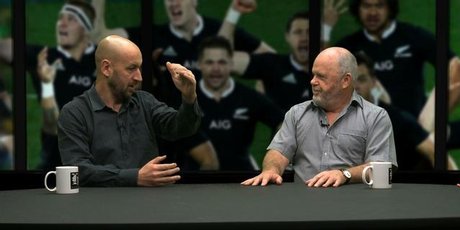 "What we tend to do as human beings is look at one thing, one thing that hurts us, and get caught up in that. But go back and have a look at what he did in that game. His workrate is tremendous and he's got an influence from a captain's point of view that you can't buy. His future looks pretty good at this stage. As long as he keeps doing what he's doing, we'll continue picking him."
There is little doubt that McCaw is changing as a player. He has probably lost some of that explosive pace he had at the start of his career, but he is stronger and heavier.
He doesn't make the breaks that his Wallabies opposite Hooper does, but it is probably unfair to compare the two because they are different players.
McCaw still has that uncanny ability to be in just the right place at the right time and his greater physical presence means he dominates tackles, sending opponents backwards in order to change the momentum of an attack. His pain threshold has always been extremely high - both in terms of his ability to push himself to exhaustion and beyond, and to play with injuries. His effort in playing with a broken foot in the last World Cup was probably matched by his playing against England in Hamilton in June with a broken rib.
It took him longer than usual to get out of bed the next day.
Against Australia in Sydney at the weekend he suffered a "stinger" arm/shoulder injury in the first half when getting his timing wrong in a tackle. The most capped player in All Blacks history looked physically broken in the final minutes, but the thought of replacing him never occurred to the coaching panel.
For Hansen, there is no fear of that happening any time soon.