England may eye young batsman after stint with Sussex but Auckland want him back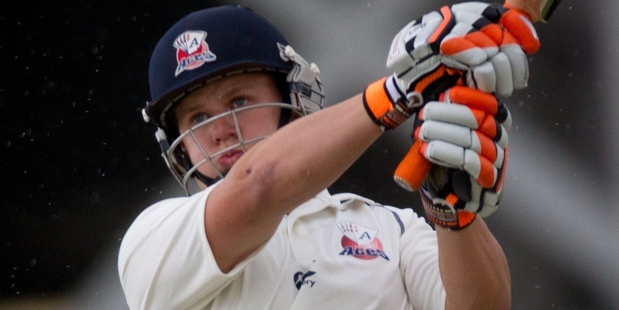 Promising Auckland batsman Craig Cachopa is trying his hand at English county cricket with the idea of making rapid improvements to his game.
However there's a possible spinoff for England in his move.
The 22-year-old, who captained New Zealand at the 2010 under-19 World Cup, could be eligible for England in a matter of months.
Cachopa is playing for Sussex and has already made an impact, hitting 198 runs in his first four innings at 49.5.
That's not to suggest England would snap him up with indecent haste, and their middle order of Gary Ballance, Ian Bell and Joe Root is becoming a locked-in unit. However, England have never been reluctant to grab players born elsewhere, in Cachopa's case, South Africa.
But his progress is sure to be watched. The opening with Sussex came after Cachopa played minor county cricket. There is an Auckland link through international Luke Wright and veteran batsman Chris Nash, both of whom have played in the domestic T20 competition.
Auckland Cricket chief executive Mark Cameron said Cachopa - whose older brothers Carl and Brad have returned to Auckland for the coming season from Central Districts and Canterbury respectively - remained firmly part of Auckland's programme.
Provinces can have two overseas players for the HRV Cup, and one for the first-class Plunket Shield and 50-over Ford Trophy competitions.
Cameron was confident Cachopa would be involved this season, but not for the entire programme.
"We don't want [him] playing 12 months a year, he'll need a break but he'll play for us at some stage," Cameron said. "We understand the path he's taken for the short or medium term. He wants to fast-track his development, we'd support him in that."
Cachopa, as an England-eligible player, earns Sussex funding support from the England and Wales Cricket Board and does not take up an overseas spot.
Should he play for Auckland this season, he would be treated as an overseas player, and the provinces are likely to make use of him in that capacity.
Last season Cachopa hit 781 first-class runs, at 55, with his last five innings being 70, 118, 36, 209 and 90. He's averaging 50.97 in 23 first-class games and with five hundreds.
A New Zealand A team will be in the United Arab Emirates in November for a series of 50-over games against associate member nations bound for next summer's World Cup, which dovetails with New Zealand's series against Pakistan in the UAE. NZ A will play Scotland, Afghanistan, Ireland and the UAE, then several players will take part in the limited-overs leg of the Pakistan series.