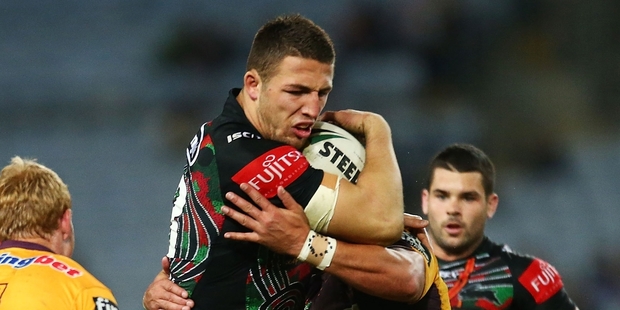 The Rabbitohs will play in this year's grand final based on their scintillating display against the Broncos on Thursday evening.
Wow, what a performance.
I have witnessed some clearcut, dominant exhibitions by some great teams over the years, but what the Rabbitohs showed me was best termed clinical.
The aggressive nature of their play was a message to everyone - that this year it's fair dinkum.
With the certainty of change in personnel in 2015, in particular Sam Burgess departing to rugby union, their statement was profound.
Burgess is in outstanding form. His previous two seasons showed that it was not about the team or club - it was all about the Burgess family.
The four Burgess boys, their mother and the history-making event of all four on the field at the same time in an NRL game, became a sideshow. It segregated the rest of the team, who became extras in a Hollywood movie.
This no doubt excited owner Russell Crowe but, to the public, it was unbearable. All five characters enjoyed the attention surrounding them and, on many occasions, it was evident Sam was looking to the big screen to catch a glimpse of himself.
A hand sign, the sticking out of his tongue or the cuddling mummy was fodder to the media show surrounding this team. It turned horribly wrong on the field, with heavy and embarrassing losses in the major semifinals.
This year is different. Sam is no longer looking for the big screen, there is no Burgess sideshow and, more importantly, there is now a focus on 'the team'.
Greg Inglis is also becoming a better player. I didn't think this was possible. Who can stop this man? Josh Hoffman tried but ran into the proverbial brick wall that was Inglis. During this try-scoring passage, Inglis astonishingly offloaded the ball after the power run and hit on Hoffman, and stayed alive to receive the final pass at a faster pace than when he hit Hoffman. I was gasping for breath in amazement at what he can do and how he defies logic in becoming a better player.
While I'm enjoying watching rugby league being played at such a high level, I agonise over how my old joint the Roosters will combat Souths in their final-round bout.
It's well known the rivalry between the Roosters and Rabbitohs - the love-hate relationship that exists between them - traverses any other in this competition but I acknowledge the brilliance of Souths.
I can't see any team beating them on their current form. The Rabbitohs have grown unwittingly from the self-proclaimed battlers to the glamour side in this competition.
They desire to hang on to the former mantle but must accept the transformation of their aura.
The working-class beginnings and battlers' tag is on the brink of being wiped away for many years to come.