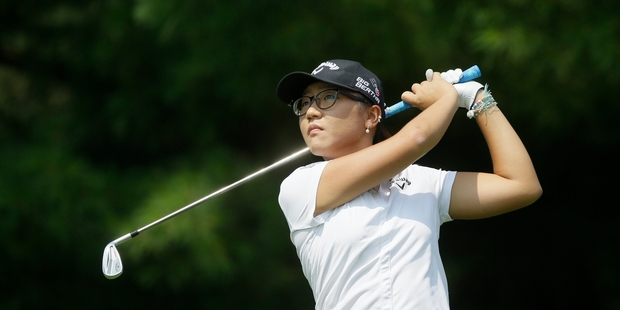 It's hard not to marvel at Lydia Ko's consistency. Expectation and pressure are things that have their own place in her golf bag but the 17-year-old continues to defy standards set for her.
The sky is the limit for Ko, and she seems keen to see if she can make it there.
The New Zealander has made a strong start to the LPGA Championship in New York and finds herself in a familiar place - in contention.
That's a phase of a tournament Ko is used to by now given her success as an amateur, which she has carried on since making the decision to turn professional late last year.
People questioned her change of coaches, and there have been grumblings about her inability to find a regular caddy, but she has brushed all the worries aside.
She has said she feels pressure on the golf course but rarely shows it, and her calm demeanour and metronomic consistency set her apart.
She was in a share of fourth at the LPGA Championship yesterday after carding a solid three-under 69 in her second round.
She moved to five-under for the event, four shots behind Brittany Lincicome, who held the lead at nine-under. But there were some big-name players in the chasing pack, with Lexi Thompson and Inbee Park, who are both ranked in the world's top 10, in a share of second at six-under.
World No1 Stacy Lewis, who was on a roll in the first half of the year, is in a share of 33rd at even-par following rounds of 71 and 73.
Victory in New York could see Ko move to the top of the world rankings for the first time.
"If it goes my way, great, and then I become world No 1, it's even better," Ko said. "But I'm not going to think about it. I'm just going to try and enjoy it and try to think of it as a normal ... another LPGA event."
That attitude has served her well and it's that humble nature and ability to focus on the task, rather than let her mind wander, which has kept her grounded during her maiden campaign on the LPGA Tour.
Her win at the Marathon Classic in Ohio last month pushed her past the US$1 million ($1.18 million) earnings on the LPGA Tour and she must be hot favourite to be named Rookie of the Year.
"For me, I think about winning at the end of the week," Ko said. "I know especially like Toledo I realised I became a millionaire after that. I mean, to kind of have those accomplishments is really cool, but I'm really going out there and trying to play the best I can. It's hard to control what I do, but to control what other people are doing is pretty much impossible."
Thankfully for Ko, she has to worry only about herself, and another consistent performance during the third and fourth rounds at the Monroe Golf Club could see her claim her first major title.
If she was to achieve that, Ko would become the youngest major winner - male or female - in history.
- APNZ