Sharks encounter showed need to wrap up ball carrier to prevent offloads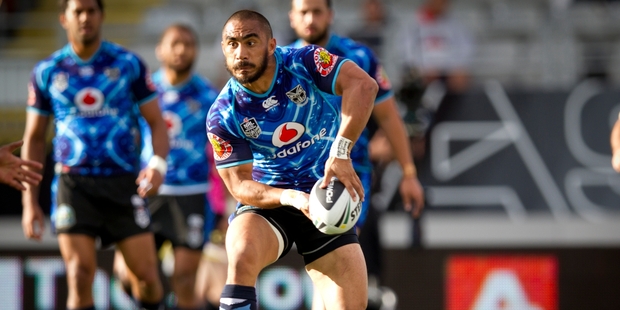 Warriors veteran Thomas Leuluai says his side need to show better commitment to making their first-up tackles when they come up against an imposing Newcastle Knights pack tomorrow.
Last weekend the Warriors struggled to contain the Cronulla Sharks' big forwards, particularly throughout the second-half, as the visitors' offloading ability forced the defence to work overtime and created several second-phase attacking opportunities.
Thursday's training session saw the Warriors concentrate heavily on getting numbers in the tackle and wrapping up the ball-carrier as they prepare for another torrid forward battle at Hunter Stadium.
"That's an area that we highlighted where we weren't too good at. I think they got about 18 offloads on us and you just end up having to make extra tackles," Leuluai explained.
"You make a good tackle and if they get an offload away you can make eight or nine tackles a set instead of making four or five. That just took the juice out of us and with the roll-on you've got to make sure you do the job properly the first time so you don't have to do it twice.
"Our forwards last week weren't too happy with their performance so this week against a big pack like they've got, with Willie Mason and Jeremy Smith, experienced players, we've got to make sure we're good."
Leuluai has no qualms about switching to the No 9 role, and apart from doing more defensive work, wants to concentrate on his key tasks of organising the ruck and identifying any chances to exploit a lazy Knights defence.
Regular starting hooker Nathan Friend is sure to be given game time off the bench and will ensure the Warriors won't want for experience or stability at dummy-half.
"I'm quite comfortable. I've obviously played there a bit in the past so I know what my role is there and I'm just looking forward to playing," he said.
"I'm going to have to get through a bit more defensively and with my leadership and stuff like that, nothing really changes there. Cappy [Coach Andrew McFadden] just wants me to control it and do the role that every nine that comes in has to do."
With Shaun Johnson and Chad Townsend also in the starting line-up, the Warriors don't lack for play-making options, but McFadden is not relying on Leuluai to provide a third point of attack.
"Not really, he hasn't said so. He said to back myself and if I see an opportunity then take it. But ultimately I've just got to get the boys around the park and defend really well and make sure we're going the right way in attack and making the right decisions.
"I'm going to look for opportunities as much as I can around the middle and I'm sure Shaun and Chad will be looking for that, too. If there's an opportunity there Cappy said we can take it and the main thing is that we control the team really well. I thought the second-half of last week, the spine as they call it, we weren't too good in that sense, so we've got to be better."