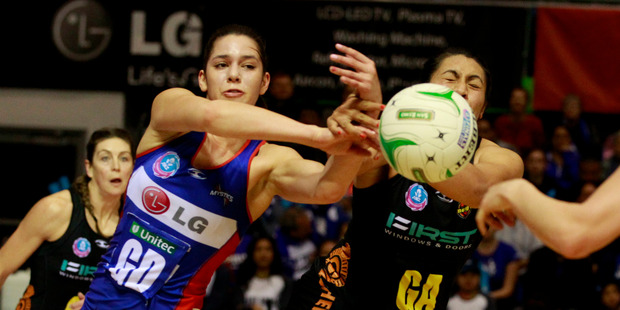 The Northern Mystics are putting their faith in a trio of young defenders to fill the void left by experienced internationals Anna Harrison and Julie Corletto.
Harrison announced this week she is expecting her second child in February, which will likely rule her out for most, if not all, of the 2015 ANZ Championship season, while Australian defender Corletto is heading back across the Tasman to link up with the NSW Swifts next season.
The Mystics yesterday announced young defender Sulu Tone-Fitzpatrick will rejoin the franchise next season after missing this year's transtasman league following the birth of her twins in December.
The 22-year-old, who played her rookie season with the Mystics in 2010, will link up with Kayla Cullen and impressive youngster Temalisi Fakahokotau in the defence end next season.
Fakahokotau, 19, was the find of the season for the Mystics this year, and is tipped to be called into the Silver Ferns next month when coach Waimarama Taumaunu names her 2014-15 squad. Although all three are highly rated young athletes, next year will be the first time they will be tasked with anchoring the defence end without the support of a more experienced player to partner them in the circle.
Adding to the unknown, both Cullen and Tone-Fitzpatrick are returning to the competition after sitting out this season - Cullen with a serious knee injury from which she is still recovering.
Tone-Fitzpatrick's inclusion in the Mystics line-up comes after a stand-out showing for Netball North at the under-23 national champs in Dunedin last month.
The 1.88m defender was reportedly looking fit and strong, and was close to replicating the type of form that saw her selected in the Silver Ferns as a 19-year-old.
Tone-Fitzpatrick played one test in late 2011, when the team was in re-building mode following the World Cup in Singapore, but her career stalled the following year after joining the Magic. The powerful defender, who has been likened to former Silver Fern Linda Vagana, struggled to get any court time behind Casey Kopua and Leana de Bruin and her motivation suffered.
Her confidence returned after linking up with the Steel in 2013, with Tone-Fitzpatrick featuring in every game for the franchise that season - while she was carrying twins as it later turned out.
The pregnancy ruled her out of the New Zealand under-21 side's World Youth Cup campaign last August.
The Mystics are close to finalising their roster for next season, with just one spot left at each end of the court to fill before the August 22 deadline.