Highlanders opt for youth, leaving colossus of two codes to take it like the man he is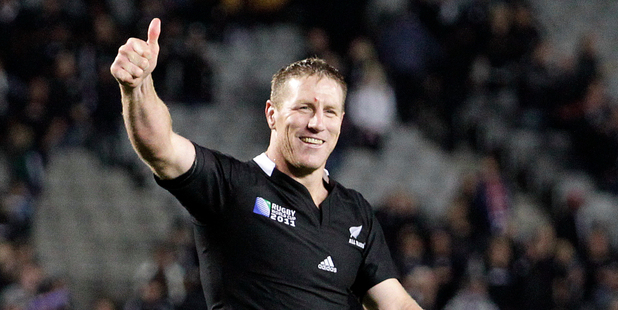 'If you ever find yourself in the wrong story, leave."
So said American children's author Mo Willems. I'm sure Brad Thorn agrees.
Brad Thorn is gone. He has left the building, exited stage left, pulled off the Portuguese fade, dropped a smoke bomb; he has simply disappeared. As ever there was no fanfare, no epic sendoff, and no real goodbye. He just packed his bags and jumped on a plane bound for Heathrow. His services no longer required. At least, not here.
The Highlanders wanted him to stay as a strength-and-conditioning coach, a role he assumed this year alongside his playing duties for the southern franchise, but Brad Thorn wanted to play. He wanted one more season. He wanted to turn 40 running around Forsyth Barr Stadium. He wanted to finish it all where it all began.
It wasn't to be. The Highlanders have opted for youth - they already have a number of good prospects, including the very impressive Tom Franklin - and that is understandable, but has Super Rugby become so commoditised, so focused on the next generation that there is no longer any room for fairytale finishes?
I feel a Boromir meme coming: "One does not simply let Brad Thorn walk away."
It would be naive to suggest that Thorn can cheat time forever. Just ask Corey Flynn about that. But just one more season? Who wouldn't want to see that? Who wouldn't want, for just one more time, to watch Big Bad Brad marauding about the mauls and patrolling the rucks and getting his head stuck in places you wouldn't tell your kids about? I know I would.
Maybe I'm romanticising the whole thing. After all, in the cut-and-thrust world of professional rugby there is scant room for sentimentality.
Good team men are regularly cast aside, their respective omissions barely rating a mention in the week's dispatches. They simply pass their use-by dates. Easy come, easy go. And look at this new kid!
I don't blame the Highlanders for "moving on" as one team insider so bluntly put it. This is a side that reaped the benefits of advancing its region's youth this season and that investment could well pay further dividends next year. One would assume, too, that Thorn's departure frees up a certain amount of cap to strengthen that investment. All hail the accountants.
But no amount of wage saving will compensate for the tears in the eyes of a giant as he stands in the morning mists of Mosgiel and speaks of his family ties with the Taieri Eels, of how his father's shadow ever lengthens across the frosted fields of Peter Johnstone Park, of how the watchmaker became man-maker.
And what new recruit will come carrying a treasure chest of 20 seasons of pro ball? Of grand finals and World Cup finals? Of Heineken Cup finals and Super Rugby finals? What new recruit will know of the sacrifice and the dedication, of the unwavering will to win, of the discovery of self and of faith and the time spent searching for the soul and the saviour?
And who will those new recruits emulate on the training pitch or in the gym? Will they be told tales of that deep, rasping, booming gargle of a voice as it counted out the reps, or will they simply forget that once Thorn walked these halls and stalked these fields and pumped his fists in delight when the referee called time on a Highlanders win? I hope they don't forget. I hope the fans don't forget either.
Thorn is on the phone in Mosgiel. He is busy packing his bags. I wonder how he took the news when he was told he wouldn't get to play out his career in front of his people. Surely he must have been upset? He may be a colossus of two codes, but trust me, the man can sure get emotional.
"I just took it like a man," was his response. And with that we said goodbye. Nothing fancy. Stay in touch and all that.
It would have been completely understandable if Thorn just quit, if he just called time on a career that has left him with nothing more to prove. But that's not in his DNA. It has always been easier for others to quit on Thorn. It has been impossible for Brad Thorn to quit on himself.
And so this story's ending is all wrong. Someone's replaced the final paragraph. There is no fairytale here.
But there is, and always will be, a legend.