Smith shows little love for the NZ jersey so his self-imposed international exile should be made permanent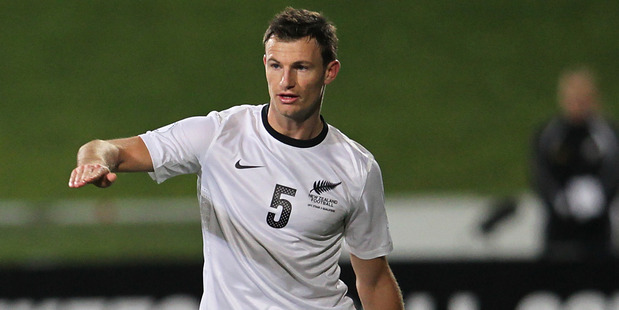 All Whites defender Tommy Smith can take a running jump into the international football wilderness.
Pommy Tommy's decision to opt out of the All Whites for a year is another slap in the face for our national football side, which is trying to re-establish itself in a post-2010 hangover, and now under a new coaching team of Anthony Hudson and Neil Emblen.
Ipswich Town defender Smith has all the loyalty of a double agent. The England-born Smith got a free pass into the 2010 World Cup finals in South Africa, being selected after Ricki Herbert's team had qualified via the magnificent Bahrain dramas. In return, he's turned into a prima donna we just don't need anymore.
Initially, Smith said all the right things about his time as a young footballer here and the love his family has for this country. This has turned out to be hot air.
His first offence remains the greatest, an appallingly judged ultimatum to the All Whites on the eve of World Cup qualifier in Mexico late last year when he demanded a late pass into camp under the threat of quitting international football.
This was for one of THE most important games in New Zealand football history and his country - well, we thought it was his country - needed him. Badly. He was actually the flippin' captain.
Retiring from international football would have been a technical ploy allowing him to circumvent Fifa rules and play for Ipswich when he should have been in the All Whites camp. But anyone who plays that retirement card so lightly and early in the career doesn't have his heart in the right place. His antics made a tough job against Mexico even tougher.
Without that, his latest decision would be easier to take and understand.
Coming on the back of the Mexico fiasco, Smith's just-announced, self-imposed exile is not acceptable. Players like Smith face tricky situations balancing club and country, while clubs are under huge performance and financial pressure. It is no small task, building and maintaining a professional career in football's higher echelons. But Smith and co badly overstepped an acceptable mark in 2013. Smith needed to put the situation right, and this was the moment with Hudson taking over.
Assistant coach Emblen says the All White players' reaction will help determine Smith's future. They should send Smith to Coventry. For good.
Maybe time will throw a different light on the situation, but that's certainly how I feel right now. Bottom line: Few teams are good enough to succeed in international football unless everyone is on the same page, and the All Whites ain't one of them. This All Whites squad is a new breed, with some exceptional potential and a chance to build their own codes and culture. The last thing they need is half-hearted Tommy stuffing that up.
Spare me from this
Watched a decent game of secondary schools rugby on TV this week. Then came the post-match interviews, and the first thing one of the players did was thank the Lord.
I'm tired of sports stars parading their religious beliefs about in interviews or via signals to the heavens.
If the Big Guy in the Sky is your thing, go for it. But it is unbelievably arrogant to keep shoving your beliefs down other people's throats.
There are plenty of opportunities to offer praise ... in private.