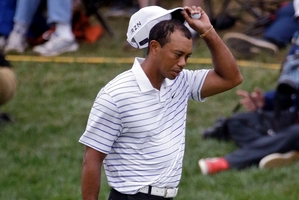 The time has come for someone to say no to Tiger Woods, if only to save him from himself. We are about to discover if Ryder Cup captain Tom Watson is that man.
Paul Azinger, the only American skipper to have won golf's game of thrones this century, and without Tiger to boot, came out as a beacon of reason when he said yesterday that in his view Woods was unselectable.
The golfer who "moves the needle" more than any other, Rory McIlroy included, is bereft of fitness and form. His return to golf after back surgery in April was clearly premature. Though the doctors gave him a clean bill of health, his body told him the truth at Akron, when he lost balance playing out of the rough and sent his back into spasm.
Just 72 hours later he declared himself fit to play at Valhalla. Thirty-six holes of major golf reinforced the evidence presented at Firestone Golf Club.
Woods is neither use nor ornament in his present condition, and with no means to prove otherwise in a competitive environment should spare Watson the need to make a decision at all.
That is the view of Azinger. "It is difficult to watch Vincent van Gogh reduced to painting by numbers, but that is what we are seeing from Tiger. The biggest concern for me is that something is happening to the strongest mind golf has ever seen.
"Tiger has to fix that. You need your mind and body to be working in harmony, so even if Tiger gets his strength back quickly he still has to regain that mental toughness he was famous for. Another worry is that fact that he is not just missing to the left, when we always knew a bit of a pull-hook was the shot that hurt him most when he was not playing well. Now he has got a two-way miss going. Tiger has not necessarily been the formula for success either. I just don't see how you can pick him at this point."
So Watson has to shake himself and his nation, Azinger apart, free of the attachment to the greatest golfer of the era and accept that for now at least, it is time to play with a different deck. Dropping like flies, in fact, is how Watson described his troops as another disc bulged out of shape on the golfing frontline.
Last year's PGA Champion, Jason Dufner, lasted 10 holes here before the pain in his neck also became a pain in his Ryder Cup captain's. Matt Kuchar didn't even take to the pitch, an injured back forcing his withdrawal on the eve of the championship.
Dustin Johnson, meanwhile, has left the scene all together to decide if the competitive rules that govern golf are compatible with a lifestyle at odds with the demand, if you see what I mean.
Woods admitted he was done on the range before he hit a ball in competition. Goodness knows what he thought he might achieve by putting a tee in the ground for real.
Woods is now away to rehab and the gym to do the preparatory stuff so lacking here. Since he is not playing at the Wyndham Championship next week and has not qualified for the Fed-Ex Play-offs, Watson would be making a call on the basis of ancient history. Woods is simply not worth the risk.
That is not to say, should he recover full fitness and the necessary range of movement, he won't get that needle moving again, only to make plain that he cannot be that golfer in the next six weeks.
"I felt old a long time ago. It's darn near 20 years out here." You said it, Tiger.
- Independent