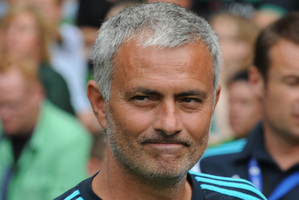 Louis Van Gaal's arrival in the Premier League has left Jose Mourinho with a problem. Not just because here is another heavyweight manager, a potential game-changer who will rival Chelsea, but because there is history between the two men. Good history. And Mourinho cannot easily resort to his default position - identify a threat and attack it.
He cannot speak of Van Gaal as he has done so caustically of Manuel Pellegrini or Arsene Wenger and he cannot adopt the role of mentor as he has tried to do with Brendan Rodgers.
Nor can he refer to Van Gaal as he did Sir Alex Ferguson, as the father-figure, the don, the leader of the managers, because, whatever his achievements and reputation, this is his rival's first season in England and he is vulnerable because of that.
Van Gaal's appointment as Manchester United manager has added another extraordinary dimension to the most dramatic league in football.
The attraction of the confident, understandably brash, high-achieving Van Gaal - who craved a Premier League job from the end of last year and had expected to join Tottenham Hotspur before United disposed of David Moyes - has created even more uncertainty.
Wenger has already, rightly, declared it folly to try to predict who will win this season, and equally reckless even to predict the leading four clubs. But the Premier League season is upon us, so here goes.
Van Gaal's United - and they are quickly becoming his United in contrast to the way Moyes so crushingly failed to make a definitive impression - kick it all off on Saturday lunchtime (UK time) at home to Swansea City. The way he has pursued an adventurous 3-4-1-2 formation has created a frisson of excitement, even if he could do with at least two more signings to strengthen his team's spine while conducting a clear-out.
Swansea were Moyes' first opponents, too, and were impressively subdued 4-1, but how illusory that turned out to be. This week's result should be regarded through that prism. There had been torrential rain in south Wales that Saturday last August, but it was as nothing to the deluge that subsequently engulfed the unfortunate Scot.
Van Gaal, by contrast, gives the impression of a man who, should he be capsized in a storm, would find the last piece of debris to cling to - and do so with a prize fish clamped between his teeth. And convince everyone that was his plan all along.
The 63-year-old is a larger-than-life embodiment of the adage, first coined by golfer Gary Player, that "the harder I practise, the luckier I get".
Van Gaal was arguably the best coach at the World Cup because he did what good coaches do: he maximised his resources and he innovated. Holland were the only nation to use all 23 players in the competition, while his boldness and tactical flexibility felt like a masterclass unfolding before our eyes.
He is intense and meticulous, and Mourinho knows that. After all, his management history has the influence of Van Gaal stamped through it ever since the day, in 1997, when they first encountered each other after the Dutchman rather awkwardly took Bobby Robson's job as Barcelona's coach when he had been expected to become only director of youth development.
Even Van Gaal found that episode regrettable, but while Robson was typically stoic and dignified it was Mourinho who voiced the anger of his mentor - and in doing so found a new one in Van Gaal, who was deeply impressed by the young Portuguese's passion, confidence and loyalty.
"I sometimes think I was the only guy who believed in Jose," Van Gaal later said, and Mourinho can expect that admittedly self-regarding comment to be thrown at him again in coming weeks.
But, undoubtedly, Van Gaal gave Mourinho his chance - allowing him to coach Barcelona in friendly matches and the Catalan Cup. While Mourinho later spoke of his frustration in his third and final season working under Van Gaal, he took with him a blueprint that he still works to.
It is not until October 26 - at Old Trafford - that Chelsea and United are due to meet, but there is a growing sense that the Mourinho versus Van Gaal dynamic could be the most intriguing storyline of this most fascinating of campaigns.
Not that Mourinho will be cowed. He outmanoeuvred Van Gaal in the 2010 Champions League final when Inter Milan beat Bayern Munich.
Certainly Mourinho will point to United not being in the Champions League now as an advantage - as he did with Liverpool last season - but although he is right, there are no excuses for him either this season.
He has largely got what he asked for. Signing Diego Costa, Filipe Luis and Cesc Fabregas - with Thibaut Courtois returning from loan - has reshaped Chelsea. Mourinho will want more, but Chelsea believe he has enough to wrest the title away from Manchester City.
In truth there is a group of seven who are so far ahead in the league, which is why Wenger also claimed that it might actually be the results against the lesser teams that define who wins rather than those against each other. But, again, maybe he would say that, given Arsenal's impressive record as the league's flat-track bullies.
City and Chelsea and United, Liverpool and Arsenal and Everton and Tottenham Hotspur - who could be dangerous dark horses under the intense and inspirational coaching of Mauricio Pochettino - appear so far ahead of the rest that a prodigious gap may quickly develop. But to even have seven teams in contention is a credit to the Premier League.
Beyond that - beyond perhaps Stoke City and Newcastle United, who appear well-equipped to compete - there could be an 11-club scrap to avoid the drop, although among those West Ham United will believe their ambition and financial outlay should dictate they should be above that unseemly scramble.
Predicting who will go down is as hazardous as trying to divine who will win, although another adage - that budgets dictate - should have a bearing, which may prove ominous for the likes of newly promoted Burnley.
Hull City, Sunderland and Aston Villa all fell below 40 points last season, while West Bromwich Albion again appear in a state of flux, and promoted Leicester City and Queens Park Rangers could go either way.
Nothing can be said with certainty, and after another World Cup of disappointment for England that is one of the more joyously uplifting thoughts of the coming campaign. At the top it will be a Chilean against a Northern Irishman, a Frenchman against an Argentinian and Spaniard ... but above all, the suspicion persists that it could be a monumental clash between a Portuguese and a Dutchman.