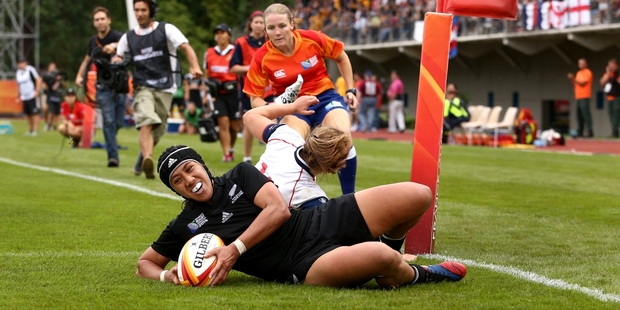 A New Zealand national rugby team failing to make the knock-out phase of a tournament ... it just doesn't happen.
For the first time in the history of the Women's Rugby World Cup, the Black Ferns won't be playing in the semifinals after their shock loss to Ireland last week came back to haunt them yesterday morning.
Despite beating the USA 34-3 with the required bonus point, their fate was already sealed because of an extraordinary 13-all result between England and Canada.
The latter thus moved to 12 competition points, one more than the Black Ferns could achieve. So the Canadians, whom the Ferns defeated twice in June, will advance.
Coach Brian Evans said after the match that some of the side knew what had transpired between England and Canada, the fixture immediately before they played, because they had asked him.
But captain Fiao'o Fa'amausili was not one of those who would have felt deflated at kickoff.
"We actually didn't know the result before the game, so we just told the girls to go out and play what we know best, which is Black Ferns' running rugby," she said.
Off the back of some powerful surges by No8 Casey Robertson, the Black Ferns led 12-0 at the break, centre Huriana Manuel crossing for the first of her double off a long cutout pass by Kelly Brazier.
Slick work from midfielder Amiria Rule and fullback Selica Winiata saw wing Claire Richardson score in the corner.
But the USA were not to be easily rolled over, despite losing their skipper Kate Daley to injury.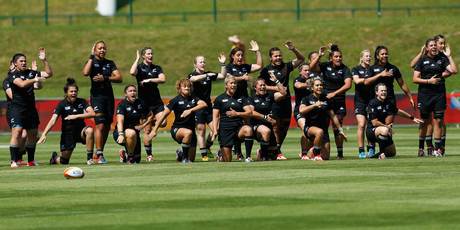 Their pack was robust and their double-team tackling mostly effective. They even scored a try that was not awarded and then lost the ball over the line early in the second half.
Black Ferns flanker Linda Itunu was yellow-carded but the USA could add only three points while she was in the bin.
The Black Ferns, however, gradually took control, laying on three last-quarter tries to close out the contest. Replacement halfback Kendra Cocksedge, who should have started ahead of Emma Jensen, scored one and combined well with replacement wing Renee Wickliffe, another who added maximum value, for the latter to score off a scrum move. Flanker Justine Lavea added the sixth try in the final minute after a long build-up.
One of the features of the Blacks Ferns' game was their rolling maul, which proved to be very effective on at least two occasions.
The semifinals on Thursday morning will see Pool C winners France play Canada and Pool B winners Ireland face Pool A winners England.
The Black Ferns will have a showdown with eighth seeds Wales, and the best New Zealand can hope for now is to place fifth, a bitter pill to swallow for the four-time World Cup holders.