Rising star enhances reputation with third-round knockout but fellow Kiwi Berridge defeated by Lepikhin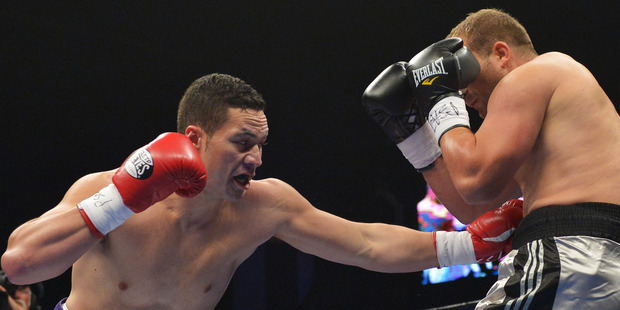 Joseph Parker enhanced his reputation, despite being slightly out of sorts in his victory over Keith Thompson yesterday. But for fellow Kiwi Robert Berridge, the overwhelming feeling was of an opportunity wasted.
Berridge suffered a big career setback in losing to powerful Russian Vasily Lepikhin in a fifth-round knockout, the first time he has been stopped.
The 29-year-old got close in only one round, the fourth, when he found his range and hit Lepikhin with a combination to the head.
The end came 1m 4s into the next round with the undefeated Lepikhin extending his record to 16 victories when knocking Berridge down three times. Referee Gary Rosato called it to a halt for Berridge's second defeat of his career.
At the Sands Casino Resort, Berridge and his camp put his two championship belts on the line against a man 14cm taller and with an undefeated record. Lepikhin has never fought out of Russia, but that merely increased the mystery.
He appears to have a big future.
The crowd cheered at hearing Berridge's "Butcher" nickname and very good record of 20 knockouts in his 24 victories, but he rarely took Lepikhin out of his comfort zone.
The defeat effectively takes him out of the running for a title fight against light heavyweight Sergei Kovalev.
Berridge, also knocked down in the second round, received a barrage of shots to the head and body throughout. One statistical measure had him throwing 233 punches to Lepikhin's 210, but connecting with only 39 compared with his opponent's 78.
He connected with only two jabs; Lepikhin put 20 past his defences. Afterwards he insisted he was fine physically and ready to continue as early as October 16 on the undercard of Parker's fight against Sherman Williams in Auckland.
"I wasn't aggressive enough, just no fire. I wasn't on form tonight," he said.
Berridge insisted he wasn't concerned about going behind early. "That doesn't worry me. I knew I had the power to knock him out. I caught him a couple of times. I just couldn't find that range all the time."
Trainer Cleve Langdon said: "He [Lepikhin] got his range early, it's as simple as that, and that meant he could drop his power shots on Robbie early on. As soon as you start dropping bombs on people ... you know I think Mike Tyson said it brilliantly ... 'everyone's got a game plan until they get punched in the face', and that was proven tonight."
Parker wasn't entirely happy with his third-round knockout of American Thompson.
"I felt flat in the warm-up and the fight. I don't want to make excuses, but it must have been the delay of coming over here," he said.
An American voice from the crowd urged on "Smokin' Joe" and Parker delivered, a powerful left uppercut knocking Thompson down and a flurry of punches seconds later resulted in a referee David Franciosi stopping it 2m 41s in. Parker impressed many ringside with his speed, power and, in particular, patience, a rare quality for a 22-year-old.
Parker, undefeated in 10 professional fights, and his promoters Duco Events, will now travel to New York and Los Angeles for talks with other promoters, while Berridge will travel straight home — disappointed but determined to fight on.
• Patrick McKendry of APNZ travelled to the United States with assistance from Duco Events
- APNZ