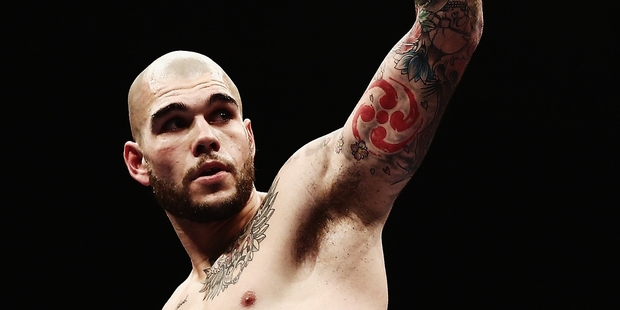 Robert 'The Butcher' Berridge lives up to his nickname a little too often for his camp's comfort — not for what he does to his opponents, but for the opportunities he gives them.
While he has been beaten only once, he often leaves the ring bloodied.
There will be no changing him, though, only a continual refining of the 29-year-old who will fight undefeated Russian Vasily Lepikhin at Bethlehem's Sands Casino resort today.
Berridge is rough around the edges and has never been too concerned about getting hit. He's also strong and aggressive. As a southpaw, he's awkward and unorthodox, qualities he and his camp have embraced.
Trainer Cleve Langdon, who has been involved with Berridge for the majority of his 26 professional fights, said the fact his man is a southpaw was an attractive proposition for him.
Langdon met Berridge when he was training Shane Cameron, enlisting his help when the Mountain Warrior needed a southpaw to spar against. He took over from Vasco Kovacevic as Berridge's trainer, with Kovacevic changing to a hands-on manager's role.
"He's very unorthodox," Langdon said of Berridge. "I didn't realise how strong he was when I first saw him. That's what first attracted me to him, his uncompromising style. He's always keen to look for a scrap, and the fact he's a southpaw, I love southpaws. They're very awkward.
"I haven't changed his style. I've just tried to tidy up his shots a bit so he isn't as vulnerable. He still gets hit way too much as far as I'm concerned.
"I guess I've taught him how to set traps for people, give someone an idea you're going one way and then go the other way. That's effectively what boxing is all about.
"I'm a defensive fighter," Langdon added. "I'm always about hitting and not being hit [but] if I'd tried to change his style, it wouldn't have worked.
"Defence is an issue we're continually working on. The thing with Rob is that he will punch straight back [after he's hit] and that's not what people are expecting. It's a risk and reward thing."
Berridge said: "That's the thing with Cleve, he hasn't tried to change me. I'm still awkward ... people don't expect it. If I can keep my strength and fitness up, then he's happy with it."
Langdon is a physio by trade who fought successfully as an amateur before giving the gloves away due to constant injuries.
He acknowledges this is a dangerous fight for Berridge, ranked ninth by the WBO and 12th by the WBA. Lepikhin, 14cm taller than Berridge at 1.92m, has a perfect 15-0 record but this is his first fight outside Russia.
The Berridge camp have their eyes on a title fight against WBO champion Sergey Kovalev, who recently defeated Australian Blake Caparello, the only man to have beaten Berridge.
"We had two options, two Russians, and for me this guy was the lesser of two evils," Langdon said. "His style will suit Rob and Vasco and I both agree this tall guy is the right choice. He likes to sit inside in the pocket and he's got a greased-lightning jab which Rob has to be careful of but there's certainly things in the Russian's arsenal Rob can take advantage of.
"This guy has a similar style to Kovalev, who we are gunning for. If we can't beat this guy, then we are not ready for Kovalev."
• Patrick McKendry travelled to the US with assistance from Duco Events.