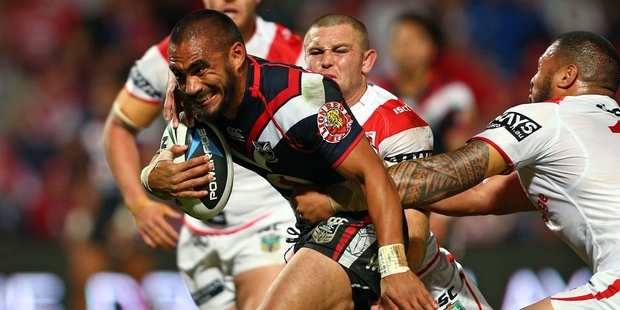 Thomas Leuluai has re-signed with the Warriors, staving off fears he might be considering a return to the UK Super League.
His new contract, signed last week, extends his stay at Mt Smart until the end of 2017. He wasn't off contract until the end of next season but Leuluai said it was important to settle his long-term future.
"While I've had a frustrating season personally, I couldn't be happier being back home," said Leuluai, who made his NRL debut with the Warriors as a 17-year-old in 2003 before a long career in England.
"I always wanted to come back to not only play in the NRL but to play for my original club.
"I think we're in great shape. It's impressive how much the club has grown since I first started here. We've got a really good squad, fantastic talent coming through and outstanding facilities. We don't want for anything."
It's a significant boost for the Warriors because Leuluai has become, in the space of less than two years, a vital element of their mix.
There had been speculation — largely driven from England — that the 31-test Kiwi was pondering a move back to Super League where he enjoyed so much success with Wigan.
His partner is English, and a return would have been a way for Leuluai to prolong his career in a less physically demanding competition.
His re-signing is crucial for coach Andrew McFadden, as Leuluai has been one of the main drivers of the cultural change at the club. He's the ultimate professional, both in his hard-nosed approach to training and in the focused 80 minutes he gives to each game.
Leuluai knows what it takes to win games and sets a good example for the rest of the squad.
The 28-year-old is one of the best defenders in the NRL and has an underrated attacking game. He's a strong, direct runner with an accurate kicking game and a clever pass.
His retention is also vital for Sam Tomkins, as the duo have an uncommon bond.
"Once you play with someone for a while, you get used to it," Tomkins said earlier this year. "[Thomas] knows my game inside out and has added more to my game than any other player. He was a big factor in me coming here."
Leuluai has also been a strong influence on Shaun Johnson, and the two halves usually room together on away trips.
After playing every minute of every game last season, Leuluai starts just his seventh match of the season, against Cronulla today.