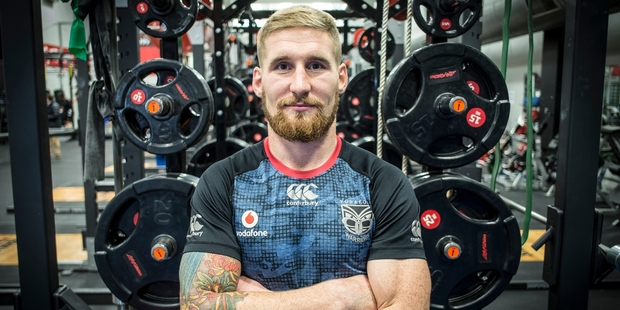 Most days on his way home from training, Sam Tomkins stops in at a specialist English food shop.
The kitchen cupboards in his Auckland home resemble a Waitrose supermarket, laden with Wagon Wheels, McVities, Soreen and Irn-Bru.
During his first fortnight in New Zealand, his main mission was to find a decent English pub.
Tomkins is more than 18,000km from home but he's tried to bridge that distance by surrounding himself with touches of England.
He's quintessentially English — the accent, the skin, the dry sense of humour — but he's not about to run back home to Wigan.
Strong rumours circulated within the league community recently that the million-dollar fullback is unsettled, that he wants to cut his contract short and leave Auckland.
Speculation only increased when older brother Joel returned to Wigan in June, after three years playing rugby for Saracens, taking a pay cut to do so.
Wigan chairman Ian Lenegan hinted at Sam's early return at the time, telling Rugby League Week, "Let them go and they'll return — Joel is the first".
The Warriors had even heard the rumours and approached the 25-year-old to see if there was any truth in them.
But Tomkins is unequivocal about his future.
"I'm going to honour my contract," he says. "I have no plans to leave sooner than my contract says. I'm enjoying it and the club put a lot of effort into bringing me here and I want to repay that.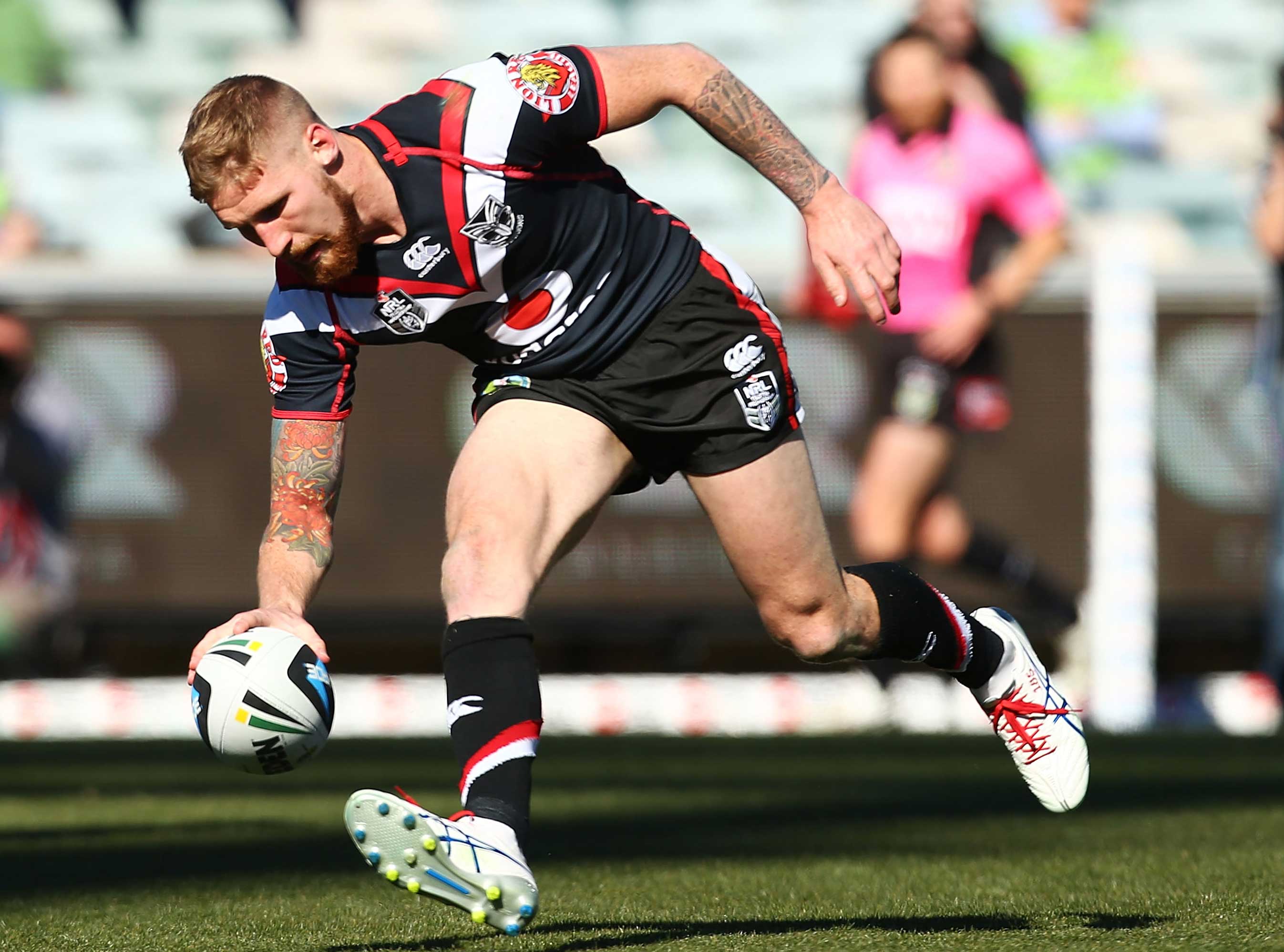 Sam Tomkins in action against the Canberra Raiders. Photo / Getty Images
"I've seen reports and I've had some of my closest friends ask me [about leaving early] because they have read things but, where they are getting it from, I've got no idea.
"I can say on record that I have not spoken to anyone about leaving my contract early and it's certainly not in my plans."
The former Wigan fullback insists he isn't homesick but he's definitely a homebody. It's a trait common in those from the north of England and has played out with multiple league players over the years.
Former Warriors forwards Dennis Betts and Andy Platt couldn't wait to get home and few players settled in the NRL for long in the 1990s or 2000s. Adrian Morley was an exception, although he came in the twilight of his career, and Sam Burgess is surrounded by three brothers at the Rabbitohs.
"It's been difficult at times," admits Tomkins, who had previously never lived more than 10km from his family. "It's not great being so far from family. My brother is expecting his first baby in a week or so, so you miss out on things like that.
"There are days here when I'm not doing much and I think I would be round at my mums, or going out with my brothers, things you just can't do here."
Tomkins jokes at one point that "Wigan is the centre of the universe" but the sentiment is not that far-fetched. For anyone growing up wearing the famed red-and-white hoops — either as a fan or player — the attachment to the town is even stronger. The league team become the centre of your world and, with most Super League clubs all within an hour's drive, the focus is narrow.
"It's a small community with genuinely nice people," says Tomkins. "I fully expected I was going to [miss people]. You will have days when you miss home but I wouldn't say in general I'm homesick."
It's not to say there hasn't been a period of adjustment.
"When I first moved over, I had two weeks' holiday so I basically spent that time trying to find the English pubs in Auckland," laughs Tomkins. "I tracked down a few — probably too many — but there are plenty of good spots."
He says there aren't many that are a true reflection of a classic English local but Walkers Crisps, Hula Hoops, Beamish and Carling help to provide tastes of home.
It's also helped that his parents have visited for extended periods — Tomkins has recently learned to cook, but struggles to replicate his mum's efforts — and a local English grocer provides supplies of favourite products.
"He's obviously a homeboy but is really enjoying it here," says Warriors general manager football Dean Bell. "He'll certainly see out his contract. That's the kind of guy he is and part of the reason we chose him. He's a winner and someone who likes to challenge himself. He could have stayed there, earning the same money, in a comfortable environment — that is what a lot of guys do — but he chose to come here."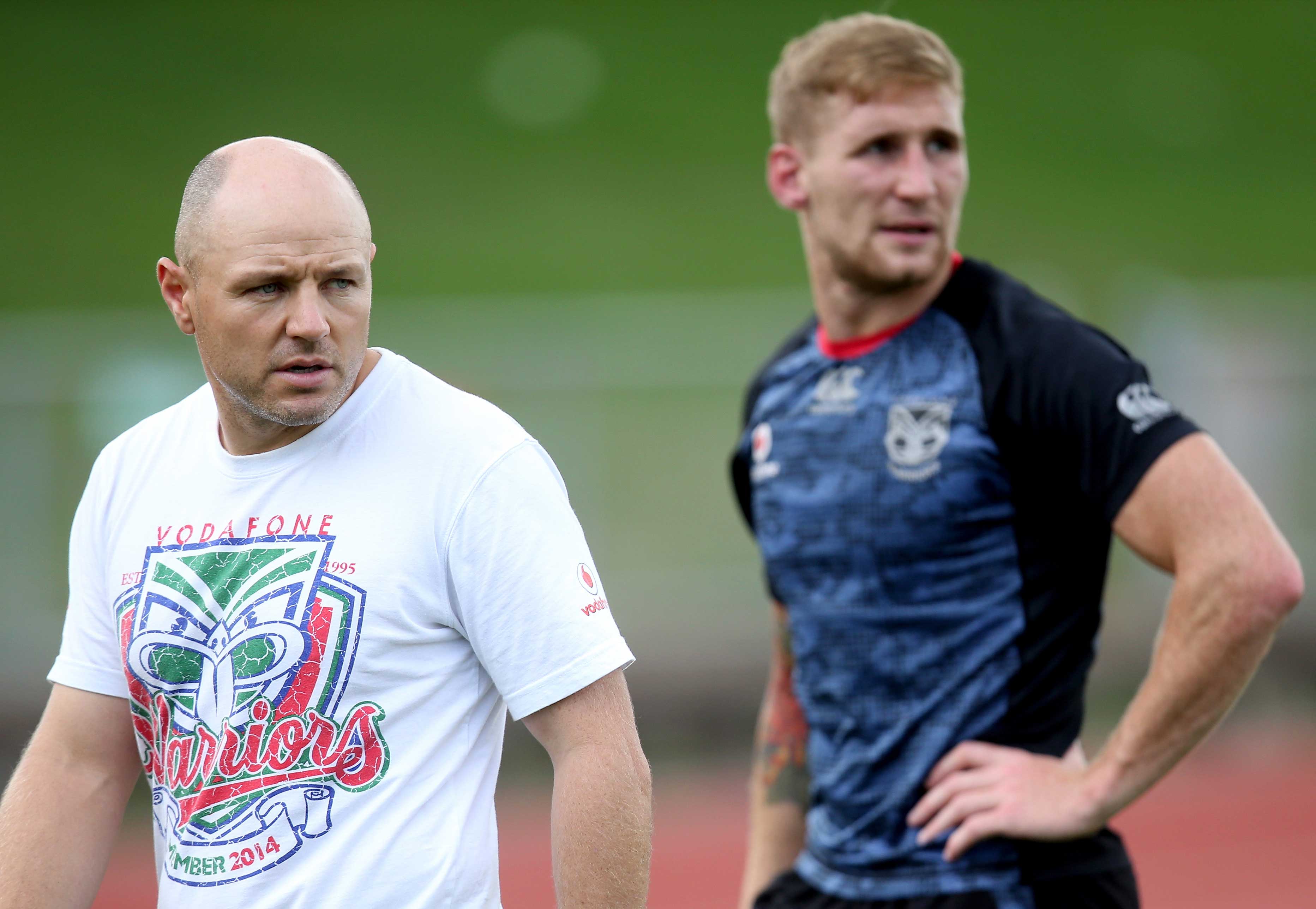 The Warriors' head coach Andrew McFadden, left, and Tomkins during a training session. Photo / Getty Images
Early on, it looked like it might be the wrong choice as he struggled in a battling team. He wasn't meeting expectations and opposition teams were quick to remind him.
"Of course I was targeted. It was, 'get hold of the Pommy. Pommy this, Pommy that'. But it's never fazed me."
After that uncertain start, his class has shone through, and he's starting to justify the large investment the Warriors made. Tomkins is a weapon on attack, with his scampering bursts near the tryline, as well as a prodigious ability to set up his outsides. His leadership qualities have also come to the fore and he has become one of the main talkers in a team that is notoriously quiet.
"He is straight up and very honest," coach Andrew McFadden says. "He says what needs to be said and doesn't tip-toe around the subject. It's guys like him who are really driving our standards internally."
Off the field, he's also been quick to fit in. He marvels at the camaraderie among the players — "I have never seen a group of lads more happy in each other's company" — which helps alleviate the constant travel demands. Team-mates talk about his dry sense of humour and his immense shoe collection.
"Yeah, I have a room full of them," says Tomkins, who customises his own trainers as a hobby. "It's harder to get hold of them over here but it's slowly growing. I've probably got 150 pairs here, and another 100 back home."