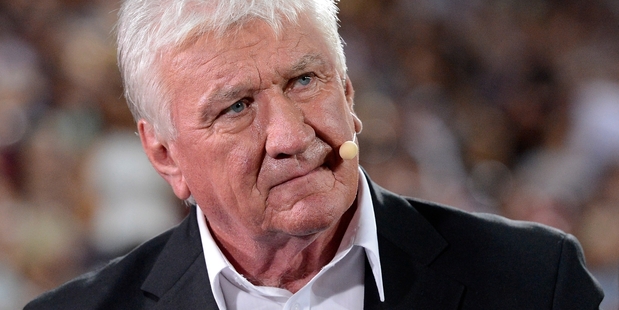 Four years ago, Ray Warren was sitting in a hospital bed on an intravenous drip with a potentially life-threatening illness.
The diagnosis was uncertain but Warren's major concern — three days before the 2010 grand final — was whether he would make it to his seat in the commentary box for the climax of the NRL season.
It reflects an uncommon passion. Some people like their jobs, others love them. Warren lives for his job.
He made the game — the health scarce was prostate cancer, which is managed to this day — and has now called every NRL grand final since 1992 as the anchor of Channel Nine's coverage.
He's become one of those television commentators who transcend their sport. Like Murray Walker in Formula 1, Bill McLaren in rugby and Martin Tyler in football, Warren — or at least his voice — has become as famous as the sporting figures.
He's a broadcasting icon in Australia but is also extremely popular on these shores, having been a regular feature in our lounges for more than two decades.
He's paid to talk but is not so used to talking about himself. When asked why he has stayed at the top so long, he hesitates, unsure what to say.
"That's a good question," says Warren. "I must have some ability. I've been versatile and had a lot of luck along the way."
Perhaps there's a simpler answer. Warren is exceptionally good. He has the knowledge, humour and respect for the game and, most importantly, he can convey the excitement. While many others go way over the top, or talk too much, Warren seems to get the balance just right.
"My theory has always been the same, listen to your crowd," Warren says. "They will tell you when to be excited and not to be excited. It's all about light and shade."
He was a natural-born commentator. As he reveals in his new book, The Voice, he would commentate on painted marbles rolling down a slope to simulate horse races as a child and would sit in trees watching country league matches and describe the action to himself.
He's covered three Melbourne Cups and other sports but league has dominated his working life.
Asked for the pieces of commentary he is quietly proud of, he highlights two. One was Mark Coyne's last-gasp try for Queensland in the 1994 State of Origin — "that's not a try, it's a miracle" — and the other is Billy Slater's freakish touchdown a decade later when he immediately surmised that it was "one of the great Origin moments".
He claims to have been lost for words only once, in the dying stages of the 1999 grand final when referee Bill Harrigan awarded Melbourne a match-winning penalty try.
"That left me speechless," recalls Warren. "It wasn't wrong but it was such a massive decision for one man to make at the time."
It hasn't all been plain sailing. He lost his plum job at Channel Ten after pulling out of their 1984 Olympic Games coverage because of a crippling fear of flying and spent five years in the wilderness, at one stage even applying to work as a 'garbo' on the rubbish trucks before returning with Nine.
He swears by solid preparation before each game, though not as much as in the early days when it was "eight hours of researching and worrying" before each match.
In latter years, Warren has been part of an era when it seems every retired player is handed a microphone and jacket as soon as they hang up their boots. He preaches caution.
"I think some television and radio executives don't seem to understand that a great footballer doesn't necessarily make a great commentator," Warren says. "It doesn't work like that. They are not all orators."
After two decades, he remains an unabashed admirer of the Warriors — "they are great to watch" — and has just one lament about the Auckland club.
"Imagine if all of the best New Zealand players had played for the Warriors instead of coming over here," he says. "They would have won a few premierships by now. I have no doubt."