'Bone-deep' prep needed to subdue Wallaby team that's dished out 3 of last 5 defeats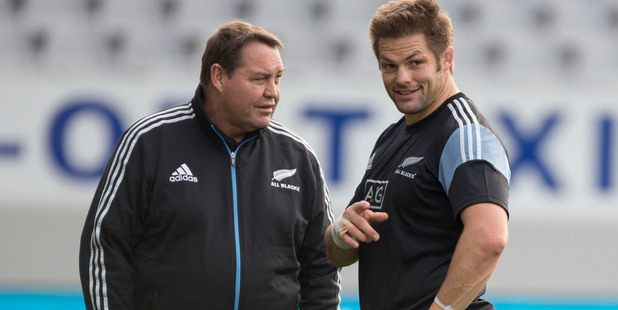 Mishaps have withered in the past decade of All Blacks rugby as they stare down a piece of history with the Wallabies, who have been their most troubling rival in recent seasons.
The All Blacks have dominated the Bledisloe Cup since 2003 and have a target of extending that sequence into a world record run of 18 successive victories when they visit Sydney next Saturday.
They will travel with beads of uncertainty, too, after signs the rugby revival is gaining momentum across the Ditch with Super rugby success fuelling the international optimism.
No one need remind the All Blacks about the size of the challenge, however they will all be probed about the extent of their preparation for their latest tilt at history.
Three of their last five stumbles have been against the Wallabies and coach Steve Hansen will eyeball his troops to question whether they have put in all the work they need for Sydney.
One of his pet phrases is about teams needing to go "bone-deep" in their preparation before every test.
That failing brought them undone against the Wallabies in Brisbane two years ago when they lurched to an 18-all stalemate which halted their run at the record. Hopes of also celebrating Keven Mealamu's 100th test became a night of introspection.
Later that year, they were well beaten 38-21 by England but have since managed, with some marvellous rugby like their triumph against the Boks at Ellis Park and late fortune against Ireland, to keep the winning run alive.
"If we make [preparation] bone-deep we give ourselves an opportunity to turn up in a mental and physical state which allows us to play well and we're not a bad team when we turn up like that," Hansen has said.
"If we get beaten and we do that, that's life."
Once again they're straddling the line. Can they make the push this time?
A core of senior All Blacks recognise the paths and pitfalls of success and have tasted defeat. Mealamu has started each of the last five glitches, Richie McCaw, Kieran Read, Sam Whitelock, Ma'a Nonu and Conrad Smith all began four.
If they were asked to break down their work and measure it against the Wallabies, on balance the All Blacks would give themselves the edge. It's how they deal with that belief and perception.
They achieved that in Dunedin as they edged the Wallabies 41-33 in their last of three meetings before their tour to Europe.
"It's that mental side of playing an opponent that you know you're marginally better than and everyone expects you to win," Hansen said at the time. The gap was closing and may have shrunk even more this year.
The Wallabies will believe that, with seven wins on the trot after their June success against France while the All Blacks were put through the wringer by England in two of three meetings.
The Waratahs won the Super 15 with their "who dares wins" ambition, which doesn't always translate well to the cauldron of test rugby. Wallabies coach Ewen McKenzie knows that and will search for better basics to allow him a range of plans.
The All Blacks will unpick their game and hope to free their minds for the start of the Rugby Championship.
Last five stumbles
2012: Lost to England 38-21 at Twickenham.
Drew 18-all with Wallabies at Brisbane.
2011: Lost to Wallabies 25-20 at Brisbane.
Lost to Springboks 18-5 at Port Elizabeth.
2010: Lost to Wallabies 26-24 at Hong Kong.