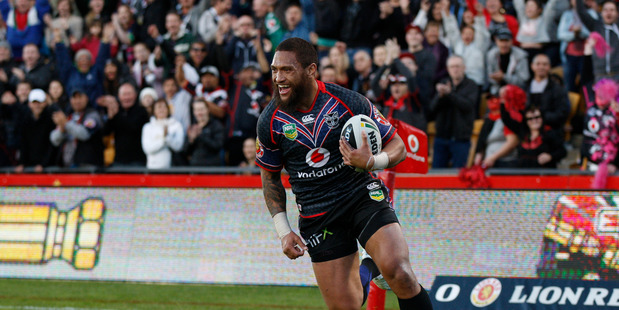 Manu Vatuvei is one of the most under-valued players in the NRL.
Whenever most people think of the big Warriors winger, they see Vatuvei fumbling the ball like he did so horribly against the Eels in 2007. Any mistake is highlighted.
It's totally unfair. He doesn't have soft hands and he's prone to mistakes, but other things he does outweigh any negatives.
He has scored 131 tries in 189 games. That puts him among the most potent players in the game in any era. He's in the top 20 all time and behind only Billy Slater, Nathan Merritt, Brett Stewart and Anthony Minichiello of current players - but it won't be long before he's ahead of both Merritt and Minichiello who are both near the end of their careers.
Manu has also done it at a time when the Warriors have struggled to score on the edges.
Also, his work carrying the ball out from his own 20m is phenomenal. He's always willing to carry the ball and often gets the Warriors out of trouble.
This year he's averaging more than 128m a game. Last year it was 115m.
Manu is doing everything right to get back in the Kiwis and, as a selector, I only hope he's still fit at the end of the year for the Four Nations.
It's a critical tournament for us because we don't want to wait until the next World Cup to bridge the gap with Australia. We have the players now to win more regularly so there isn't room any more for excuses.
There are others who have caught the eye, like Jason Taumalolo at the Cowboys and Manly's Kieran Foran.
Taumalolo has always been a player of great potential and Queensland tried to convince him to put his lot in with them. He seems to have found his role recently playing at No 13 rather than as a second-rower and he's still got that ability to break the line seemingly at will.
Foran has been incredible. There's no better player in the game when he runs at the line. He's also a terrific leader.
The selectors will sit down soon to chat about who we might pick for the Four Nations and I'm sure new assistant coach David Kidwell will want to be involved, but that's not guaranteed because of what is happening at the Wests Tigers.
Kidwell would be a favourite to take over at the Tigers if Mick Potter gets the sack and it's doubtful he would have time to devote fully to the Kiwis.
Kiwis assistant coach is a difficult role to fill at the moment. Maybe I'll have to do it. Then again, given how fickle coaching is, maybe not.