John Gillies was a schoolboy second-team player at Gisborne City when Kevin Fallon had his first, short-lived spell as coach of the club in 1974, during which time Fallon gave him his first 20 minutes of National League football. In Fallon's second term, 1979-86, Gillies played for him in every one of the eight years he was there. In five of those years, they played together as double-centrebacks. In this piece, he shares his memories of the controversial coach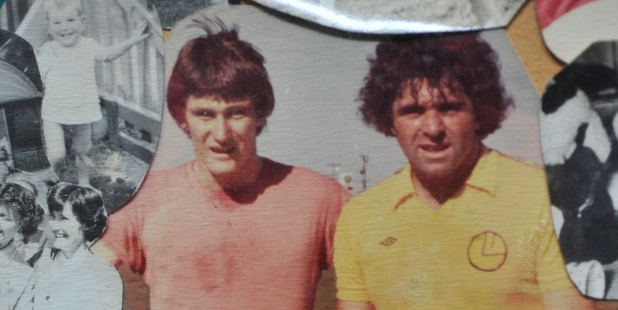 Kevin Fallon brings his own weather system to any job he does. Sunshine, clouds, wind, rain, hail, lightning, thunder and the occasional hurricane are all part of the deal.
When he came to coach Gisborne City in 1979, we were in the doldrums... we had no money; a good-but-not-great team (by New Zealand standards); loyal, but not numerous, supporters; and few prospects of going anywhere fast.
Two of the first things he did signalled how he would operate. He strengthened his squad by bringing Keith "Buzzer" Mackay back from Nelson, and he helped sell tickets in a raffle for a boat parked in Gladstone Road. Fallon knew he needed players and money, and was good at getting both.
He came with a chequered past. His first coaching job, with Gisborne City in 1974, ended after he punched a player during a training session.
In 1975, '76 and '77, Fallon was player-coach at Nelson United and brought on players like Kenny Cresswell, Peter Simonsen, John Enoka and John Slotemaker.
Fallon got the best out of Charlie Ure, and it wasn't long before he had poached Mackay from Gisborne, where he had nurtured him. All of those players later came to Gisborne.
In three years, Fallon took Nelson from the Central League into the National League and won the Chatham Cup, beating Mt Wellington 1-0 at Newmarket Park in 1977.
In 1978, he coached Hamilton. It did not go well.
With established stars Keith Nelson and Alf Stamp already on their books, Hamilton were a different proposition from the club Fallon had just left.
When his time with Hamilton ended, some wondered if he had the subtlety required to lead men, full-grown, who knew their own mind.
So let me tell you what my friend and workmate John Hill says whenever some new football star rises: "Would he be in our team?"
"Our team" is Hill's pick of the Gisborne City sides from 1979 to 1982. We both played in them and so did Fallon. Hill retired at the end of the '82 season, an All Whites World Cup finals appearance in Spain under his belt (he is adamant that without Fallon, the All Whites would never have reached the 1982 World Cup finals in Spain), only to return in 1984 to help win the club's first national trophy - the Air New Zealand Cup - and to fill in when required.
Those first four years of Fallon's reign were hard, exhilarating and at times brutal. I don't think Fallon ever punched anyone at training again, but he had to be restrained at least once. He could undermine the confidence of a player with casual venom and the next day convince him to run into harm's way, again and again.
His style wasn't for everyone. I know of good players who wouldn't have put up with what Fallon dished out. I know of others who tried to be what he wanted, but should have gone elsewhere.
I also know a few who wouldn't have reached the heights they did if it weren't for Fallon, who are thankful they played in a Gisborne team that commanded respect and who enjoyed being part of an era when Sunday afternoons at Childers Road Reserve featured rituals like the halftime wave of humanity that rolled along the length of the pitch to get behind the other team's goal for the second half.
Fallon had four more years in Gisborne after Hill's retirement. We won the National League, reached two Chatham Cup finals and had a string of big-name or up-and-coming stars in our side.
When Fallon left, his weather system - and the energy it generated - went with him. We had one more good year and then struggled on, some years better than others.
Players are drawn to Fallon despite the stories about him. Those being trotted out now in the Mt Albert Grammar row - in which he is fighting dismissal from his coaching role - are only the latest. Everyone who played for Fallon has stories.
So why do players still follow him?
His enthusiasm is infectious. He is passionate about football and as a coach knows his stuff inside-out.
He replaces mediocrity with success. Fallon has the magnetism, drive and ruthlessness to draw together talented players and get results.
He is charming. Fallon can charm a player on to the next plane to join his team. He's done it time after time, at club after club.
He has a sense of humour and a soft side. Fallon has a booming laugh and a sentimental streak for family, friends and old teammates.
In 1979, former national coach Barrie Truman described Gisborne City as "ruthlessly efficient". Fallon loved that quote.
People talked about "typical Gisborne players" and everyone in football knew what that meant. They could probably play a bit, run forever, bite in the tackle and get nasty if they had to. And to put up with Fallon, they had to have a little bit extra.
When Hill says, "Would he be in our team?" it's as if he's talking in code. You need to have been in our team - or maybe watched us - to know what he means.