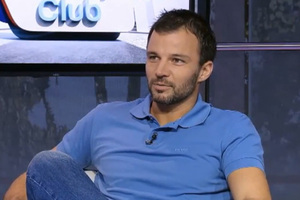 New All Whites coach Anthony Hudson was forced into the biggest decision of his career when he was headhunted by New Zealand Football last month.
Stay in Bahrain and fulfil his two-year contract to lead their national team at the Gulf Cup in November and Asian Cup in January - a project he had been working towards for two years - or jump ship and sign a four-year deal to try to get New Zealand to the 2018 World Cup in Russia.
Hudson treated the decision as if he was preparing for a match - he studied the tape. Day after day he obsessed over All Whites games on DVD, evaluating the standard of players he knew little about and assessing New Zealand's chances of success on the international stage. He put countless calls through to Queen's Park Rangers coach Harry Redknapp and a smattering of other English Premier League coaches, bouncing around ideas and asking for advice and, finally, after two weeks he resigned.
The 33-year-old US-born Englishman was yesterday unveiled as New Zealand's "Chosen One".
New Zealand Football CEO Andy Martin said it was Hudson's hunger, ambition, organisation and attention to detail which separated him from the 108 other applicants for the role, a process which took nine months.
It's a brave move for New Zealand Football to appoint someone so inexperienced - not just at international level, but also in coaching in general. However Hudson, who coached Bahrain to four wins, five draws and three losses, is unashamedly ambitious. "A big pull of why I've come here is to go to the World Cup. And not just go to the World Cup, but go further than we've ever gone," Hudson said. "I want to come here and make history and I want the players to make history."
Hudson is one of the youngest ever to earn a UEFA Pro Licence - the highest coaching qualification in the world - and has paved his way to the top by studying the game, obsessing over it, networking and constantly evolving.
"If you don't have a big name as an ex-player, or a big CV that can go and get you jobs and open doors, then you can either accept your lot, and it will happen or it won't, or you can try to be resourceful, and that's what I've always done," Hudson said.
"I'm always reading autobiographies of top people, or knocking on doors. For five or six years when I was working in America, every off-season I wouldn't have a holiday. I would just go to every single Premier League club and watch training, or League One, League Two, and I did it every year. I once flew halfway around the world to effectively have an afternoon with [Chile coach] Marcelo Bielsa and it was the most amazing experience of my life.
"I'm sure there are lots of people who couldn't be bothered. When it's their holiday they want to have a break, but that's why I feel I have paid the price to get where I am."
Hudson will also be responsible for overseeing the country's age-group representatives and has named interim All Whites coach Neil Emblen as his assistant for the upcoming away match with Uzbekistan.
"New Zealand can expect to see a team that is organised, but with a real positive attitude, a team that plays football and tries to win the ball high up the pitch. We will have a real emphasis on being positive."
Hudson is the son of former England international Alan Hudson, but was born in the US, where he began his coaching with USL second division Wilmington Hammerheads in 2005.
Anthony Hudson
Age: 33
Qualifications: UEFA Pro License, UEFA 'A' License
Coaching experience:
2013 - Bahrain senior national team coach
2012-2013: Bahrain U-23/Olympic Games national team coach
2011: Newport Country FC manager (Football League, UK)
2010-2011: Tottenham Hotspur FC reserve team coach