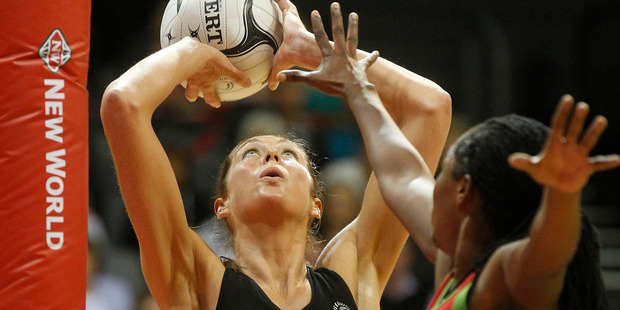 It's hard to fathom how Irene van Dyk is not in Glasgow at the moment.
Her decision to step aside in June, five days before the Silver Ferns team was due to be selected for the Commonwealth Games, was a considerable shock. But it was also a surprise Netball New Zealand didn't try to persuade the 42-year-old veteran to change her mind.
"I suspect those last few games in the ANZ [Championship] may have pushed her towards her decision and I have nothing but admiration and respect for her, so there was no trying to talk to her out of it," said Ferns coach Wai Taumaunu at the time. "It was more just listening and making sure she was clear about the what and why."
Van Dyk may no longer be a 60-minute proposition against the major nations - and probably hasn't been for the last year, as she tended to get worn down by the physical nature of modern defenders - but she would make a great impact player.
Imagine a fresh van Dyk coming on in the final quarter, or playing the first 20 minutes to set the platform for the Ferns.
The South African-born shooter struggled for the Pulse in the final rounds of this year's ANZ Championship but she was playing in a new team, with new midcourters, against relentless Australasian defenders. In the national fold, she would be back in her 'happy place', being fed by the likes of Laura Langman and Maria Tutaia.
The group fixtures against minnows represented an ideal opportunity to regain her form, allowing her to be an asset when the tough matches rolled around.
And van Dyk needed to be reminded that the ANZ Championship is a little like Super Rugby - form in the franchise competition is an important barometer for international performance, but it isn't everything. On many occasions we have seen players regain their spark once they are surrounded by international team-mates, after less than stellar seasons in the transtasman competition.
It might also be time for Netball New Zealand to reconsider their selection parameters around major events. The national body have consistently demanded long-term commitment from aspiring Silver Ferns.
As an example, in 2012 at the start of the current cycle, players were expected to be available for the Commonwealth Games and 2015 world championships in Sydney.
Instead, it might be more prudent - given New Zealand's smaller pool of talent compared to Australia's - to pick the best possible team for each major event in isolation.
Yes, van Dyk probably won't be among the two best shooters in the country next August but it's hard to argue she isn't at the moment. Other players, like mother-of-three Donna Wilkins, may not be able to commit to regular tours and post-season series but might have made herself available for a one-off tournament.