Liverpool skipper says he was low after Premier League failure and World Cup flop but he's ready to go again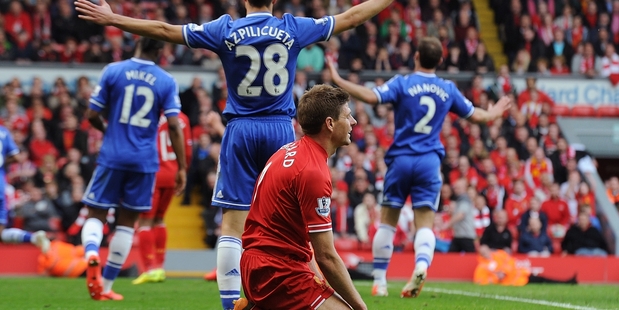 Steven Gerrard insists he is ready to "go again" after World Cup failure followed the mistake that cost Liverpool the title.
The Steven Gerrard rallying cry seemed destined to be the defining voice in a thrilling Premier League climax. The camera probed the Liverpool huddle after victory over Manchester City and captured their captain at his most impassioned.
"We go again. We do not let this slip," Gerrard ordered his teammates.
Two weeks later, the journey to the title ended with a torturous twist, when Gerrard slipped and gifted Chelsea the first goal in a decisive 2-0 defeat. The title was gone, and Gerrard had begun what he describes as the worst three months of his life.
World Cup despair followed in June. July has seen his international retirement and the sale of Luis Suarez. It would be easier for Gerrard to see this season as a form of exorcism, but these demons are to be confronted, not expelled.
"Anything you don't especially want to talk about?" Liverpool's press officer discreetly asks him.
"No," is the immediate, typically forthright response.
It feels cruel, but the impact of that Chelsea game and what Gerrard has been through since cannot be ignored. "You're brave to ask about that. How do you think it was? You tell me," Gerrard replies.
"The worst day of your life?"
"There's your answer," Gerrard says. "It's probably been the worst three months of my life.
"I've seen it a few times. I don't have to watch something like that to go through the pain again and again and again.
"I've been through the pain in the dressing room after and in the weeks and months since. I just stumbled across it. It didn't hide away. I have TVs in my house and I read papers. There is social media. When something like that happens, you have to face it up and be man enough to take it on the chin.
"Accept it happened. You can't change it.
"You have to go through tough times. Unfortunately, I have had that tough time at club level at the end of the season and then I have gone into a World Cup hoping that it was going to go really well to help me get over it. But it backfired. I have had two massive, unbelievable lows in a short space of time, so it is a good test for me this season. Can I hit form after that? I believe that I can.
"Of course it is tough to take but you have to move on sharpish. We have to try to win the league, progress in the Champions League. There are massive games to look forward to.
"When you're the captain, you can't afford to be down, feel sorry for yourself and mope around.
"At 34, there is no way I am going to let the last three months be the things I remember. It's important to finish on a high."
After the failure of the World Cup redemption plan, Gerrard reluctantly retired from England and the international captaincy, partly to prolong his Liverpool career, but also with his family in mind.
"I've had a couple of sad days since I made the announcement because I know I'm not going to play for England again," he says. "I've been playing for England since I was in the under-15s. I don't feel like a weight has been lifted because I never saw it as a burden."
After Brazil and missing out on the title, Suarez's sale ensured a triple whammy, but Gerrard is adamant the club is in a strong enough position to recover from his departure. "I am his No 1 fan. I love him to bits as a player and no doubt there is a hole that will be left when someone like that leaves," he said. "This club is so big that it moves forward, it's not about one player. We have been really sharp in the transfer market to fill the hole and soften the blow of a world-class player going.
"The league is going to be very, very tough but we know we are one of the sides that has got a genuine chance of winning it. I believe that."
The "We go again" mantra would feel appropriate if it did not carry such baggage, but Gerrard is ready to repeat it. He prefers to see last season as the catalyst for another title bid rather than a last chance that went begging.
"When I see that huddle against Man City it's real, it was from my heart," said Gerrard.
"We were so close. It was a reminder to everyone that there was still work to do and, as it proved, there was.
"You guys know me well enough, I'll keep going and I'll go again."