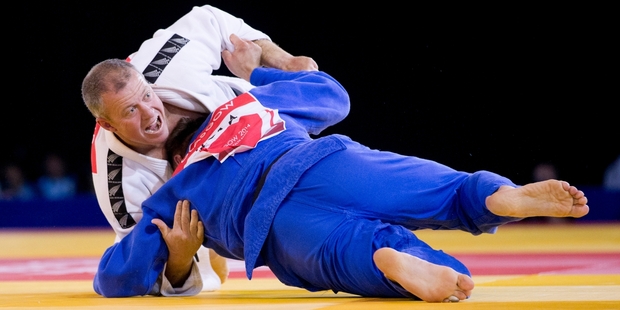 Judo's case for increased financial assistance was crystallised in the span of six hours yesterday.
In the early afternoon on a grey Glasgow day, New Zealand's triathletes concluded an unsuccessful Games, before the swimmers endured another luckless evening session at the pool. But across town, inside the Scottish Events and Exhibition Centre, the judo team won their fourth and fifth medals to significantly boost the Kiwi tally.
It would be reductive to argue what can be a tiring funding debate using mere numbers, but a couple do seem salient. In 2014 alone, triathlon and swimming, yet to step on the podium, received from High Performance Sport New Zealand a combined $3.9 million. Judo got zilch.
And it's far from the fringe sport to which many Kiwis would reduce it, with the discipline hugely popular in Asia, Europe and especially, by the sound of the screaming fans packing the SECC, Scotland.
This country's athletes often have to pay their own way to reach competitions overseas, where they acquit themselves well against the world's elite. There's little reward - even less attention from the public and media - and it leaves the athletes wondering whether those fundraising drives were worthwhile.
Which is why these Commonwealth Games have been so important. Judo has featured at only three Games, and is again off the programme in 2018, so a strong performance was imperative if the team wished to state their case for a little more support ahead of the 2016 Olympics, where the sport is a fixture.
"We've always been a minor sport [in New Zealand] but we've been doing big things around the world for a long time," said bronze medallist Jason Koster. "Unfortunately we don't get the recognition that some of the other sports get, but now we're getting the results and recognition is going to come from that.
"2002 in Manchester we only picked up one medal - now look where we're at. There's no reason we shouldn't be putting money into these young athletes getting out there, doing it on the world stage and doing it hard. Give them a little support and a bit of incentive to go do this on an Olympic level."
Tim Slyfied, the 39-year-old who ended his career with an impressive throw to also claim bronze, is one judoka whose Olympic aspirations are behind him, but he agreed with the sentiment of his teammate.
"I think it's in good shape," he said of the sport. "We've just got to continue to build the depth, build the youth and make sure they're coming through and replacing the other guys. That's the issue."
It's an issue that won't be entirely solved by throwing money at it, but some attention from Sport NZ would hardly hurt. With all sports set for a post-Games review by the government agency, the powers that be would be wise to look beyond the traditional powerhouses - some of them disappointing so far in Glasgow - and find a sport full of decent people achieving admirable results.
- APNZ