Earlier this week, Lydia Ko banked her first US$1 million in career earnings. As Andrew Alderson discovered, her former coach isn't doing too badly, either.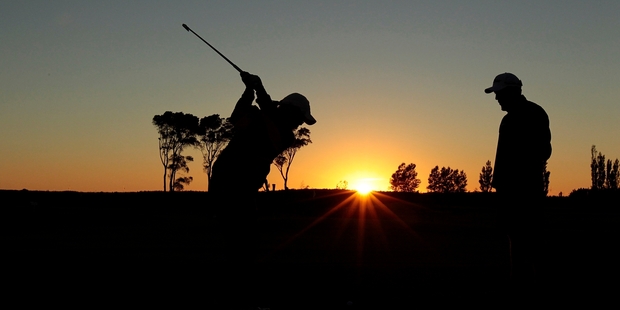 On Tuesday, Guy Wilson will travel business class to Shanghai, fly to another Chinese province, be escorted to a hotel suite at a client's golf course and coach a local lad for a week before heading to Paris and London to holiday with his partner Abby.
He admits to not knowing the Mandarin for wood, iron or putter but speaks a language of success which, until December, had mentored Lydia Ko on a remarkable path to professional golf.
"In my experience, once the Chinese have respect for a person, they don't mind the lack of language skills," says Wilson, who has downloaded a translation app to his phone for emergencies.
"They know I know my trade. The success with Lydia showed what we [at the Institute of Golf] preach actually works, as opposed to copying any other methodology. People have gone out of their way at great expense to find us, sometimes travelling halfway around the world, because of confidence in our system."
A fortnight ago, Wilson was coaching the former New Zealand representative and world No1 amateur Cecilia Cho, who now plays as Cho Jeong Min, a professional and national of Korea. He says the 19-year-old has "an amazing work ethic but needs more clarity understanding her swing".
He's also working one-on-one with a Sydney-based client and a Swiss national junior. In between times, he looks after the Institute of Golf's seven instructors following the initiation of a partnership with The Golf Warehouse, who have facilities across the country.
It means IoG can grow without the need to invest heavily in more premises. In return, TGW get reliable coaching contractors to back up their retail systems.
Anyone concerned the bottom might have dropped out of Wilson's world in the wake of the split with Ko should lose those fears.
The 17-year-old might have topped US$1 million in earnings last week but, even if Wilson never saw a cent of her professional earnings, he would have missed his present business opportunities without the severance of ties.
Ko's profile breathed life into IoG's technology-based coaching mantra, run from a couple of buildings no bigger than average family abodes off Albany Highway. They run an ultrasound putting machine, a K-vest whose sensors measure alignment, posture and rotation, and a Swinguru, where an infra-red camera breaks down your swing. Add a simulator and the hit-as-many-balls-as-you-like policy in the all-weather range and it's no wonder golfers engage.
Ko lent authority to the business but Wilson and founder Craig Dixon (who set up the IoG in 2008) knew they couldn't afford to rely on her as a poster-child with a professional career looming.
Wilson was widely lauded for the dignity he displayed by refusing to snipe after his unceremonious axing as mentor when Ko was signed by golf's heavyweight agents IMG.
He bears Ko no malice, saying they're in regular communication on Facebook but don't often discuss golf.
"It has never got fiery or heated," Wilson says. "In fact, we always joke she'll be best man if I get married. She was there when Abby and I met filming a Close Up story at the Pegasus Golf Club before the New Zealand Open in [March] 2012.
"I don't think she'll dress in a frock. She's probably more of a trouser suit-type of girl."
He has high expectations of his former charge, provided the world No 2 can handle the media demands of the job.
"Look at her rise over the last three years," Wilson says. "The incline is steep. On that trend, if she's not No 1 by the end of the season, you could argue it's been a bad year. However, it's important she balances expectations outside golf.
"I haven't talked to her about it, but you've got to do as much as you can for everyone. Still, it's not like she's a grumpy, old bag who no one wants to publicise. She's such a likable person.
"I would love to have travelled more to cool places on the tour [with her] but, as long as I keep getting the odd overseas fix, I won't be too unhappy. And every time Lydia's dominating tournaments, people at least know I've played a part in that. I can't be unhappy if she keeps playing so well. Every time she flies the flag, it's good for our brand, even if she's left our stable."
Wilson exudes a healthy level of self-assurance. Necessity has been the mother of invention post-Ko. Word-of-mouth has done the rest.
"It has allowed me to do a lot more at home and create a more certain future. It's less certain when you're relying on one player and can't look more than a year ahead.
"You don't make a lot of money off one amateur golfer."