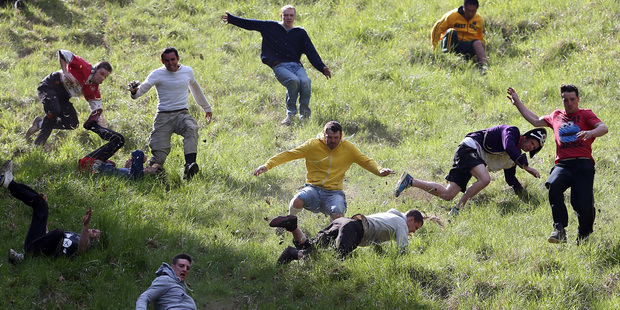 New Zealand is currently fifth on the Medals table for this year's Commonwealth Games. For a small country, we're doing very well. We've received six gold, five silver and ten bronze medals.
Read more:
• Commonwealth Games: Medal table
• Commonwealth Games: Fun and games
Our athletes are doing us proud. But if you're tired of hearing about mainstream sports, here are five of the weirdest sports you probably never knew existed.
1. Shin-Kicking
Shin-kicking, or hacking, is an English martial art that involves two contestants attempting to kick each other on the shin to force their opponent to the ground.
2. Cheese Rolling
Every year, on the Spring Bank Holiday at Cooper's Hill in Gloucester, a 9 lb round of Double Gloucester cheese is rolled down a hill, and competitors race after it. The first person over the finish line at the bottom of the hill wins the cheese. In theory, competitors are aiming to catch the cheese, however it has around a one second head start and can reach speeds up to 112kph, enough to knock over and injure a spectator.
3. Wife Carrying
This sport hails from Sonkajarvi, Finland, where male competitors race while each carrying a female teammate. The aim is for the male participant to carry the female through a special obstacle track in the fastest time.
Several types of carry may be practiced:
• Piggyback
• Fireman's carry (over the shoulder)
• Estonian-style (the wife hangs upside-down with her legs around the husband's shoulders, holding onto his waist).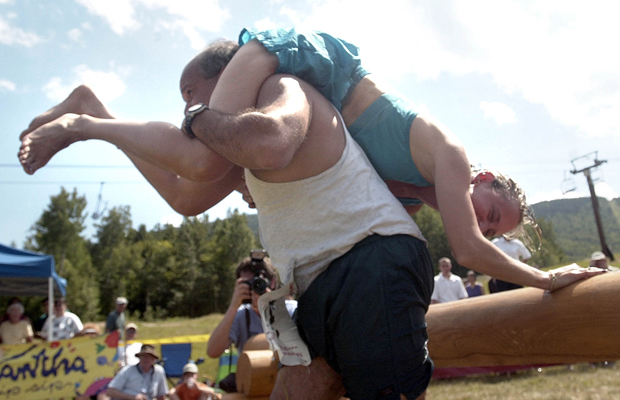 Photo / Getty Images
4. Chess Boxing
An unlikely match, this sport combines the physical with the cerebral. The game alternates rounds of chess and boxing. Players need to be skilled in both disciplines, as the game may be won either way.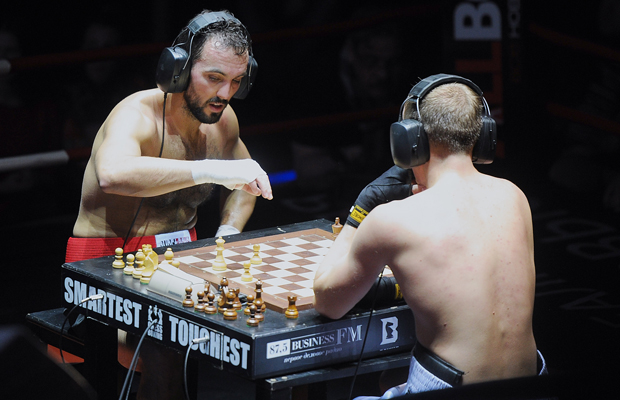 Photo / Getty Images
5. Turkish Oil Wrestling
Oil wrestling is the Turkish national sport. Wrestlers are doused with olive oil and wear a type of hand-stitched lederhosen called a kisbet (sometimes kispet) - matches may be won by achieving an effective hold of the kisbet. Originally, matches had no set duration and could go on for one or two days until one man was able to establish his superiority, these days the time is capped to 30 or 40 minutes.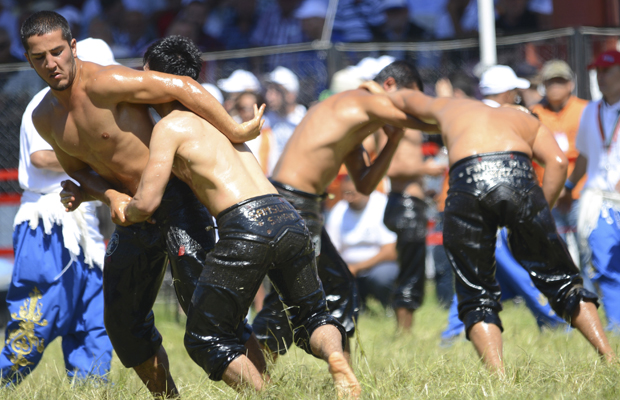 Photo / Getty Images
- nzherald.co.nz