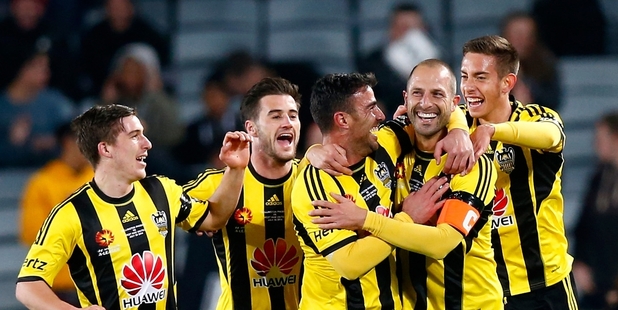 Scoring goals has never really been Andrew Durante's thing.
In more than 250 games during a senior career which began in 2001, the 32-year-old defender has scored only four goals in league games; one for Sydney Olympic in the now-defunct NSL and three for the Wellington Phoenix in the A-League.
But Durante has popped up twice in notable friendly matches where the Phoenix have earned 2-1 victories: firstly, against Argentinian side Boca Juniors in 2010 and on Wednesday night in Auckland as the Wellingtonians scored a famous win over English Premier League outfit West Ham United.
Being a centre back, Durante isn't relied upon as a source of goals but the All White said he wanted to find a way to get himself on the scoresheet with more regularity.
"I try and save it for the big games," the Phoenix captain joked. "But I'd love to score in the league. It's something that I think really needs work in my game and can add another level to my game."
Set-piece is where Durante can be dangerous given a proven ability to head the ball and with new signing Alex Rodriguez - previously known as Alejandro Gorrin - providing Wednesday's goal, there could be more in store during this season's edition of the A-League.
While the Phoenix don't get their new campaign under way proper until October 12, Durante said knocking off a Premier League side would help their enthusiasm levels during the rest of the pre-season.
Wellington have the chance to claim a second Premier League scalp in less than a week when they host Newcastle United tomorrow at Westpac Stadium.
"The boys will be up for it, there's no doubt," Durante said. "Again, another big occasion for us to play a Premier League team, so, mentally, the boys will ready. Physically, obviously, there will be some tired legs."
It remains to be seen whether midfielder Michael McGlinchey will be given the chance to play. The All White is in the middle of a contractual dispute, with the Phoenix and the Central Coast Mariners each of the belief they have the 27-year-old under contract.
The A-League's governing body, the FFA, have been reviewing the matter but Phoenix coach Ernie Merrick was disappointed with how long the saga had dragged on for.
"I'm appalled by the lack of speed in decision-making," Merrick said. "To leave him in limbo for this long is totally out of order. I'm hugely disappointed."
West Ham will have a chance to atone for their disappointing night on Wednesday when they play Sydney FC in the first fixture of tomorrow's double-header in the capital.
The Hammers left Cheikhou Kouyate (ankle) and James Tomkins (groin) in Auckland after their loss to the Phoenix, but manager Sam Allardyce said those injuries would provide an opportunity for other players in the squad.
West Ham meet Sydney at 2pm tomorrow with the Phoenix and Newcastle to kick-off at 4.30pm.