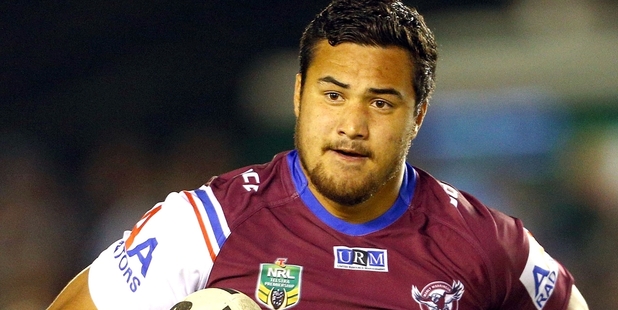 Former Under 20s star Peta Hiku left the Warriors at the end of 2012 looking to crack it in the NRL.
On Sunday, the 21-year-old will return to Mt Smart Stadium, on the wing for the table-topping Manly Sea Eagles, and looking to dent the rising confidence of the seventh-placed Warriors.
The 2012 Junior Warriors Player of the Year was highly rated at Penrose, but his path to the big-time was blocked by numerous fullback contenders. He decided to take up an offer from Manly, and hasn't looked back.
"It's just what I've always wanted," he said. "To be playing in an NRL team with a lot of experience.
"Manly gave me the offer for two years. I thought two years was a good opportunity for me to learn a lot and have enough time to develop into the NRL so I couldn't turn it down."
Previously, Hiku had been out of New Zealand only to play Under 20s games in Australia, but the decision to leave for Sydney's northern beaches was made easier by the fact his good friend and fellow Manurewa and Warriors junior, Ligi Sao, was also in the Sea Eagles' sights.
Hiku's family also backed their son to make it in league's heartland.
"It was sort of their idea to send me over here. They probably just wanted to get rid of me," he laughed. "Ligi was a big part of that too. We had a talk about it, and when I told him what was happening and he told me that he was going as well, we thought it would be good if we both came over. It helped when we moved into the same house with a couple of the other players, like Jorge Taufua and James Hasson. We were all living under the same roof."
Hiku earned his stripes as Manly's Mr Fix-it, slotting in throughout coach Geoff Toovey's backline wherever he was required and winning the club's Rookie of the Year award last year.
He proved himself a more than adequate replacement for fullback Brett Stewart, and this year cemented a spot on the wing.
Four tries against Canberra sealed his selection as fullback for the Kiwis' Anzac test, and Manly moved quickly to shut off a second-thought million dollar approach from the Warriors, re-signing him for another three years.
"I try not to get into it too much about the money side but I just looked at what would be better for my career," Hiku said. "Now I'm here at Manly, playing week-in, week-out, I thought there was a better opportunity here.
"I've still got a lot to learn and the players here are really good. I've played fullback all my life so that would always be the better position for me but I don't mind. Being a part of the side anywhere is good."
Former Warriors Under 20s coach John Ackland remembers Hiku as a youngster who played with plenty of determination. "He's a player, mate. He played when he was hurt, he played when he was tired. It didn't matter, he just played."
Hiku scored a try and performed well in Manly's loss to the Warriors at Mr Smart last year, and expects another tough encounter on Sunday.
"I'm expecting a big game and I'm looking forward to it and coming back to see the family."