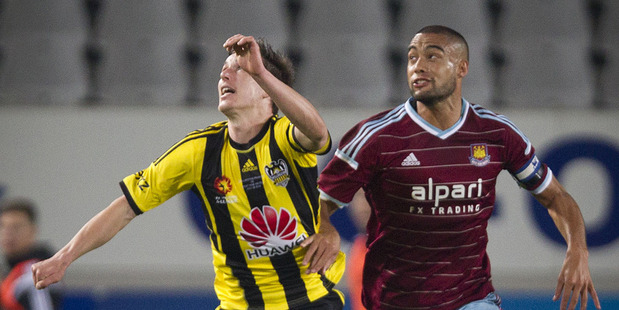 The Wellington Phoenix and West Ham served up a classic contest in Auckland last night - with the only disappointment being the modest crowd.
The 19,183 fans created a great atmosphere during the match but it was a shame to see Eden Park less than half full.
The spectacle deserved a lot more. Remember this is a rare, maybe once in a generation event. An English Premier League side in this country, who are one of the long established and traditional names and also have the All Whites captain in their ranks.
Who knows when we might see another EPL team here? It has taken more than a year of negotiations to get the Football United tour off the ground, and Asia, North America and Europe are much more attractive (and logistically easier destinations) for EPL sides looking for pre-season games.
Those who attended last night will always have their 'I was there' moment, witnessing a memorable triumph by the Phoenix and a rare win by a New Zealand club side over British opposition, the first since Christchurch United beat Hearts in 1976.
But what about the rest of the sports fans in this city? Auckland is being marketed as a global events city - and sporting organisations together with ATEED have done well to bring some big sporting occasions to the city - but Aucklanders seem to be complacent about the opportunities that are presented to them
Look at the contrast with Melbourne, a truly great events city. Despite the fact that AFL dominates to an incredible degree, the locals manage to support anything and everything. As an example, tickets to the State of Origin match at the MCG next year went on sale this week, such is the demand expected from Victorians.
And Dunedin, with less than a tenth of Auckland's population, delivered more than 10,000 people to the match the night before (Newcastle United vs Sydney FC) that didn't feature a local team.
Maybe there were some mitigating factors last night. It was a midweek night, which makes it difficult for families to attend. The Queen City has also been hit by a severe cold snap, which made the prospect of leaving the lounge room less enticing. And perhaps some Auckland football fans chose to put their cash towards attending the double header in Wellington on Saturday.
But the occasion - and Welnix, who have underwritten this tour - deserved more support. The ticket prices were fair, given the costs involved, and less than most paid to see the turgid test between the All Blacks and England last month. The match was well marketed, many months in advance. And sure it was 'only' a friendly, but so are a lot of the matches that the All Blacks play.
It will, unfortunately, make the Phoenix think twice before embarking on another such venture in this country and especially in Auckland. It's hard to be definitive, but is likely that the same match staged somewhere in Asia - China, Singapore, Thailand or Malaysia - could have generated a greater financial return.