Phoenix centre back welcomes challenge against his favourite Premier League team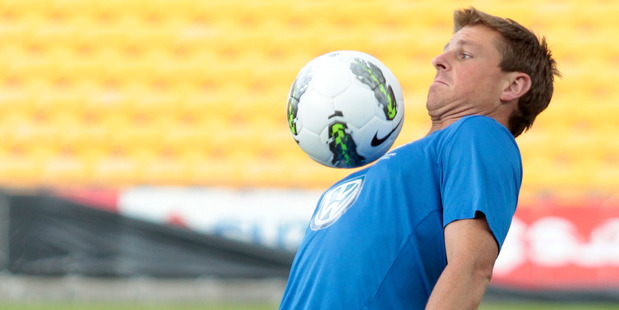 Ben Sigmund has played 31 times for the All Whites, gone to a World Cup and helped the Wellington Phoenix to one game shy of a grand final, but he still rates tonight's pre-season match with English Premier League side West Ham United the highlight of his career.
The 33-year-old centre back loves the English Premier League. He grew up watching it, he dreamed of playing in it and tonight, he will get the chance to test himself against his favourite team in it.
Sigmund, who is 1.8 metres, will spend the night toiling against 1.93m striker Andy Carroll, who was bought from Liverpool for $30.47 million last year, and earns more in two weeks than any Phoenix player would earn in a year.
But Sigmund said he welcomed the physical challenge, after realising just how big the size difference between the two squads was when they crossed paths at Eden Park during an open training session yesterday.
"Andrew Durante and I are probably two of the biggest in our team and we would be two of the smallest in theirs," Sigmund said.
"Coming from New Zealand, I think we prefer to play the bigger, stronger, physical players and that's probably the part of my game that is the strongest point so I'm looking forward to that battle. But they've got a couple of nippy little fellas in the midfield too."
Sigmund said he became a West Ham fan after the club signed All Whites captain Winston Reid and was "buzzing" about seeing, playing and marking guys he watched week in, week out on TV.
"It's probably too late for me, but certainly as a young fella I dreamed of playing in the Premier League and this is as close as I'm going to get. It's definitely my career highlight."
The Hammers play a direct style under coach Sam Allardyce, with emphasis on crosses into the box for Carroll, or his 1.92m strike partner Carlton Cole.
"When a player is a lot taller than you it's probably about just giving them a little nudge in the guts to try to tip them off balance then getting up over the top to win the header," Sigmund said.
Phoenix coach Ernie Merrick said he would start with his strongest available 11, which probably means the first sighting of Spanish midfielder Alejandro Gorrin, who will partner Albert Riera in the middle of the park after Vince Lia was ruled out yesterday with injury.
Merrick said there were no further developments with the ongoing transfer saga involving All White Michael McGlinchey and that the Central Coast Mariners player was still in limbo and would not feature on the tour.
"We've talked about West Ham and how they are all big, strong lads and a bit intimidating," Merrick said.
"And we also talked about wanting to play football, to maintain a standard that we will play to throughout the season and not changing it for this one game. We won't just park the bus and counter-attack, it's about trying to play good football and that means midfield play."
Over 17,000 tickets have sold for the match and the Phoenix have said they will consider anything over 20,000 a success.