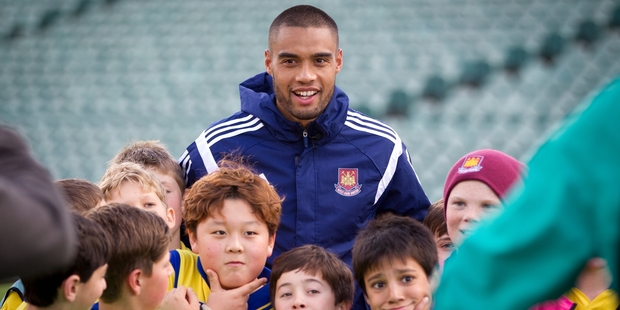 A crowd of more than 20,000 will need to roll up to Eden Park tomorrow night for the Wellington Phoenix's match against English Premier League club West Ham to break even.
Ticket sales had picked up by yesterday afternoon and the club was still hoping at least another 5000 seats would be filled by kick-off, Phoenix general manager David Dome said.
"There seems to be a lot of interest, that is for sure, but we'd like a few more ticket sales to go along with that interest."
A previous football venture in Auckland, an exhibition match featuring superstar David Beckham that was backed by the Auckland Regional Council, cost Auckland ratepayers $1.79 million when it attracted a crowd of under 17,000 to Mt Smart Stadium.
The three-city Football United Tour - which begins with a match between Newcastle United and Sydney FC in Dunedin tonight and also features a double-header in Wellington on Saturday - is promoted and underwritten by the Phoenix club, meaning no public money is at risk.
Mr Dome was confident the Auckland match would not be a repeat of the failed Beckham venture.
The lack of recognised opposition for Beckham's LA Galaxy team and the fact it followed a previous visit by Beckham to Wellington had affected that match's appeal to fans.
Underwriting the current tour was a risky exercise, but the Phoenix needed to find a way to decrease the club's financial reliance on an ownership group headed by millionaire Gareth Morgan.
"Ultimately the club has to stand on its own two feet. The owners don't have endless pockets. They are not interested in funding this [club] forever.
"There is a realisation at the club that if we are going to get to the next level we have to do something different. We needed to break the mould and do something a bit different, do something that other codes can't do which is bring world-famous clubs from overseas to this part of the world - and bring quality players that are worth millions of dollars so people can watch them play."
Tomorrow's match was being screened by Sky as a pay-per-view event, a move the Phoenix hopes will encourage more people to attend in person as well as creating an additional revenue stream.
"These [EPL] teams don't come cheap so somewhere along the line someone needs to pay," Mr Dome said.
Football United Tour
*Dunedin (tonight): Sydney FC v Newcastle United
*Auckland (tomorrow): Phoenix v West Ham United
*Wellington (Saturday): West Ham v Sydney FC, Phoenix v Newcastle Utd.