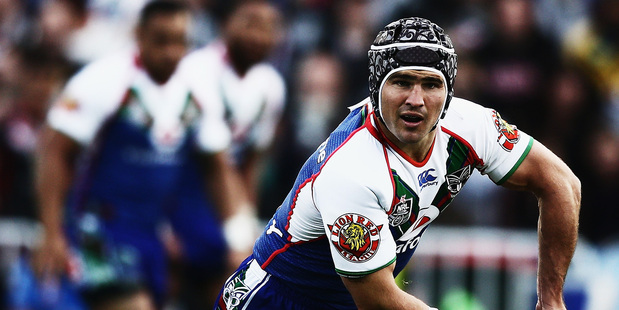 Veteran hooker Nathan Friend says the Warriors' purple patch of form is helping him to enjoy his football more than ever since joining the club in 2012.
The Toowoomba product arrived at Penrose following a five-year stint with the Gold Coast Titans but his excitement at joining the 2011 grand finalists quickly dissolved as the club descended into mediocrity and instability over the next two seasons.
A poor start to 2014 and the dra-matic exit of coach Matt Elliott in April pointed to another difficult year, but under the guidance of Andrew McFadden, Friend is pleased the Warriors have finally started to reach their potential.
"Certainly, this is the most exciting part for me," he said. "I came over here after 2011 and when I signed the guys were on the up and they reached the grand final ... It was a little bit down in the last few years but after a lot of soul searching and the coaches we've been through we've now got the right one in charge.
You see what can happen when we've got a really good mentor and guidance at the top."
Despite the dramatic turnaround, coach McFadden remains focused on continuing their upward trajectory. Racking up a 48-0 score line against the understrength Parramatta Eels is one thing, but McFadden expects them to achieve similar standards against the better sides in the competition.
In the coming weeks they will host both of last year's grand finalists, the Manly Sea Eagles [round 20] and Sydney Roosters [round 24], while tonight's match against a powerful Brisbane Broncos outfit will be another stern test of their premiership credentials.
"The real focus of our attention this week has been on whether we can do that sort of stuff under pressure so that's what's coming around the corner," he said.
With expectations building around the sixth-placed Warriors, and plaudits coming from both sides of the Tasman, McFadden says the club needs to embrace the hype rather than shy away from it.
"In the past that's the way we've tried to handle it but if we want to be a great side then that is going to come with it, so dealing with the expectation is something we've got to learn to do."
Fullback Sam Tomkins looks likely to take his place after incurring a mild hip flexor strain earlier in the week.
Brisbane have axed England international Jack Reed, winger Daniel Vidot and utility Corey Oates for a breach of team protocols. All have been dropped to the Queensland Cup for going out on the town mid-week.