Bond and Murray secure 51st straight win at World Cup in Lucerne — and the pair have no serious challengers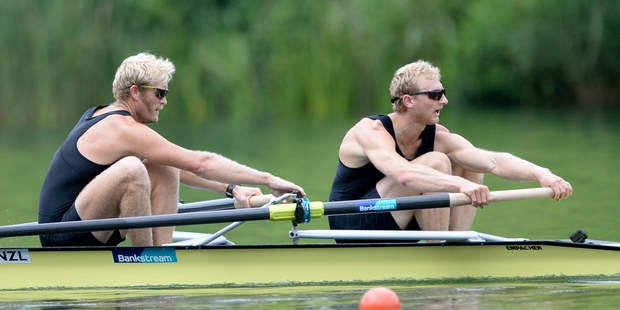 They're not keeping count - at least that's what they say - but Eric Murray and Hamish Bond are showing no sign of relaxing their phenomenal grip on the coxless pair event.
When they won the World Cup title in Lucerne on Sunday night, it was their 51st successive win. They remain unbeaten on the water since swapping out of the four into the pair for the start of the 2009 campaign.
Having seen off their only consistent rivals, Britain's Peter Reed and Andrew Triggs Hodge - who bailed out before the London Olympics and went into a four which ultimately won gold at Eton Dorney - there's no one else on the horizon to threaten Murray and Bond's hegemony.
They crossed the line nine seconds ahead of their closest pursuers, the current British pair James Foad and Matt Langridge, in Lucerne; at Aiguebelette, France in the first World Cup last month, it was an 11s margin.
So where's the next Reed-Triggs Hodge coming from?
"It's a hard one because the pairs seem to be changing a lot," Murray said yesterday.
"There are some crews who seem to get it going well on occasions and for parts of a race but don't seem able to keep it for the whole regatta. They might be really quick for the first 1000m in the heat but by the final can't string it together.
"And I'm not going to tell them how to do it because maybe they'll get closer," he laughed.
"We did have that great rivalry and it did spur us along. Now we have to find motivation in other ways."
With a change of coach, from Dick Tonks to renowned Australian Noel Donaldson since the start of last year, has come a change in approach. Tonks was, as Murray put it, "100 per cent on the water, nothing else".
Donaldson has introduced a lighter on-water workload but they are mixing in some cycling and more ergometer work. The results remain formidably good.
"Last year went well, now we're refining that again to see if we can make it even better," Murray said. "You don't just sit there and say, 'Cool, we're winning'. You need to put doubt in [opponents'] minds. If you do they're probably not going to beat you."
One of the tools Bond and Murray use is training against the men's double and women's quad, who are capable of producing similar times.
"We have training partners who push each other along and if you're under the pump the whole time it puts a hardness into you and I think that's why we are getting great results throughout the team."
New Zealand had 12 crews racing in 11 A finals at Lucerne. That produced six gold medals, two silvers and a bronze.
The signs are immensely encouraging across the board ahead of next month's world championships. As for Bond and Murray, barring illness or a hole in the boat, it seems sure a 19th title is beckoning.

Can't touch us
• Champion coxless pair Eric Murray and Hamish Bond have now won 18 successive titles - World Cups, world championships and Olympics - and are unbeaten since being put together in the two-seater at the start of the 2009 European campaign.
• Their win at the World Cup in Lucerne on Sunday night was their 51st successive race win.
• The world championships start in Amsterdam on August 24. If they win, it will be Murray and Bond's fifth world crown.