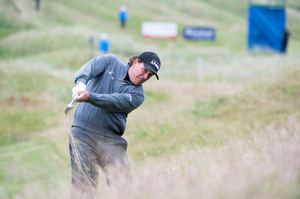 It sounded like advice from Frankie Goes to Hollywood, "Relax, don't do it, when you want to go to it." Perhaps we should stop there. You get the gist listening to Phil Mickelson tell his audience how he won The Open.
Mickelson was speaking of the final-round 66 that took him through the field and into congress with the Claret Jug at Muirfield last year, one of the greatest tales the old pot has witnessed.
"When you try to have a round like that, that's when it goes south and you end up making big numbers.
"The thing about that round is I never really got ahead of myself, I never really tried to force birdies. I just tried to play the hole, and each shot as well as I could, and you know you are going to have to make a lot of long putts to make birdies, and every shot came off well."
Mickelson speaks of his pride at parading the Claret Jug around family, friends and commercial partners, about the 1990 omanee-Conti burgundy that was supped from the mythical metal.
"I didn't know what it was when I drank it. I just knew that it was really good."
Mickelson is equally proud of the three green jackets won as Masters Champion but accepts that the sartorial prize must yield to the oldest ornament in golf. "Everybody had a chance to hold it or drink out of it and take pictures with it. There's really not much you are going to do with the jacket other than pull on the lapels."
On the pitch, the defending champ has not had the year for which he hoped, but being a man for whom the jug is always half full, he could feel the sap rising as he walked through the gates of Royal Liverpool to attempt to reclaim the trophy just handed back.
"The memories and emotions created will last a life time, but I'd like to do it again. I'd like to create new memories and opportunities.
"It almost motivates me to work harder, practice even more because I know there is a finite amount of time. When I look back on the highlights of last year's tournament it brings out such emotion."
Mickelson leads the afternoon starters on Thursday alongside 2012 Open champion Ernie Els and Bubba Watson, who claimed his second green jacket in three years in April. Back-to-back winner in Scotland Justin Rose goes out two groups later with world No 1 Adam Scott and US PGA champion Jason Dufner.
The morning highlights feature Tiger Woods, playing his first major of the year after back surgery, grouped with Henrik Stenson and Angel Cabrera. Rory McIlroy leads a youthful trio alongside Jordan Spieth and Hideki Matsuyama.
United States captain Tom Watson has given a strong hint that Tiger Woods must qualify for next month's FedExCup play-off series in order to secure a place in his Ryder Cup team for September.
"If he's playing well and he's healthy I'll pick him," Watson said. "But then the caveat is if he doesn't get into the FedExCup, what to do then?"
- THE INDEPENDENT