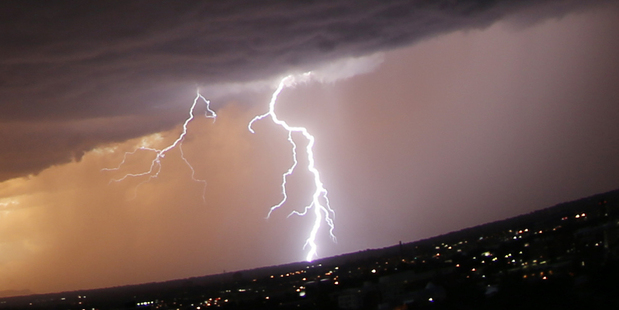 After a World Cup hiatus, the Daily Shorts are back. From a runner struck by lightning and still finishing strong to the World Cup final VIP after party list, Daily Shorts takes a look at the lighter side of sport.
Lightning reactions
You have to be equal parts tough and crazy to take part in an ultra-marathon but full credit to Canadian runner Adam Campbell who was struck by lightning during a 160km race in Silverton, Colorado last week, but kept on running for another 12 hours to finish third.
Campbell was competing in the Hardrock 100 when he and his pacer Aaron Heidt were stuck in a thunderstorm with nowhere to hide.
"There's nothing up there, no place to hide, no rocks, no trees, nothing," said Campbell.
Campbell and Heidt said they immediately hit the ground when the lightning struck, which blew out his headlamp. Heidt said he felt a twinge of electricity hit the back of his head, but otherwise they two survived unscathed.
Campbell recovered and to finish in third place in 25 hours, 56 minutes and 36 seconds
Now that's a VIP list
Just think the conversations that Sepp Blatter, LeBron James, Ashton Kutcher and Vladimir Putin would have had at the World Cup after party. Pretty sure Daniel Craig would have been keeping a close eye on Putin, potential Bond villain.
Some big names at the World Cup final. LeBron, Putin, Daniel Craig, Olivier Dacourt. Take your pick from the list. pic.twitter.com/EY8dgRMRoS

— Daniel McDonnell (@McDonnellDan) July 13, 2014
Anti-gambling ad backfires
This campaign ran in Singapore at the start of the World Cup for the National Council of Problem Gambling. Whoops.
This anti-gambling poster has backfired a little. #WorldCup pic.twitter.com/hLjJYwdQ4a

— Mike Clarke (@Mr_Mike_Clarke) July 14, 2014
However the NCPG posted a new advert after the final featuring the same two children.
"Your dad's team won. Did you get your savings back?" asks Andy's friend.
"No, dad never stops. He wants to bet one more time," he answers back.
Nice save.
Goals galore
A very nice visualisation by Swede Emil Johansson of where all the 171 goals were scored in Brazil. Also some interesting data on the average age of teams (Argentina oldest, Germany sixth youngest) and the time spent on the field (four Argentines played 720 minutes, Dutchman Terence Kongolo just one minute).
Ranked
Meanwhile Deadspin.com has ranked all 171 goals with Ronaldo coming last.
Celebrate good times
The Wall Street Journal meanwhile analysed all the goal celebrations in Brazil and it turns out the arms-out run was the most popular with 38 occasions. Knee slide only used 11 times while the head-first slide made just one appearance.
Predict this?
So you missed out of the TAB's $5m World Cup prediction game why not have a crack at picking temperatures in Indianapolis?
The Colts NFL team are offering $500,000 to a fan you can correctly predict the kickoff temperature for all four preseason and 16 regular-season games, along with whether the roof at Lucas Oil Stadium will be open for the team's home games.
Sounds pretty easy.
Streaker caught, on video
Yes there was a streaker at yesterday's World Cup final but he wasn't shown on TV but thankfully he was captured on video by LeBron James. The two-time NBA champion, four-time MVP and keen violinist, flew directly to Brazil after announcing that he will be heading back to Cleveland to play for the Cavaliers.
Heads up play for King James to video the key moment.