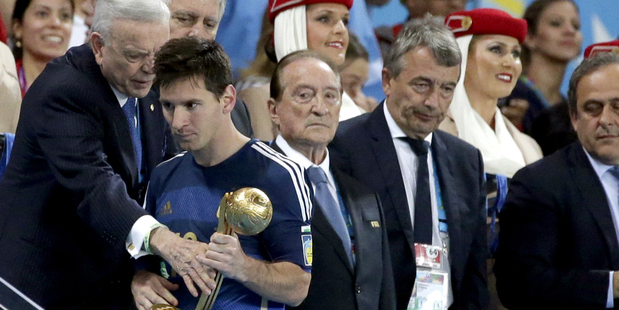 For the last five years he has been regarded the best player in the world but giving Lionel Messi the World Cup's golden ball was just a marketing ploy according to Argentine football great Maradona.
A few eyebrows were raised when Messi was named player of the tournament following Argentina's 1-0 final defeat to Germany yesterday.
The Argentine forward scored four crucial goals in group play as Argentina topped group Group F but he failed to find the back of the net in the second stage of the tournament where he managed just three shots on target.
He did set up the winning goal against Switzerland.
Read more
• Gotze shows the world he's better than Messi
• World Cup final: Five things we learned
• Michael Burgess: Germans ride their luck to claim World Cup
• Coen Lammers: Football fiesta ends with fantastic final
Messi, who has won FIFA's Ballon d'Or player of the year award three times, awkwardly took to the podium to receive the award at the Maracana Stadium.
He admitted he didn't want to be up there after Mario Gotze scored the winning goal late in extra time to deny Argentina their first World Cup title since 1986.
"Right now I don't care about the prize. I wanted to take Argentina to the World Cup for all the people," he told Spanish newspaper AS after the final.

FIFA President Sepp Blatter said he was "a little bit surprised" to present the trophy to Messi.
Argentine World Cup hero Maradona, who won the award in 1986, told pan-Latin American TV channel Telesur that it was a marketing ploy to give the award to Messi.
"Messi? I would give him heaven if possible," Maradona said.
"But it's not right when someone wins something that he shouldn't have won just because of some marketing plan."
Adidas was the sponsor of the award while Messi is one of the main faces of the sportswear company
The award was decided by FIFA's Technical Study Group, which included former All Whites coach Ricki Herbert.
Golden boot winner James Rodríguez, who scored six goals with two assists in five games, didn't even finish in the top three of voting.
Germany's Thomas Mueller was second in voting after finishing a goal behind Rodríguez in the golden boot race. Mueller now has 10 goals in two World Cups.
Dutchman Arjen Robben was placed third.
Messi's award is not as embarrassing for FIFA as the 2006 winner, Zinedine Zidane who was red carded in the final for head-butting Italy's Marco Materazzi. France lost the final on penalties.