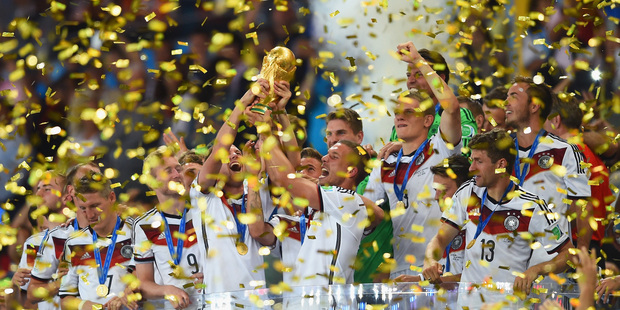 With one sublime moment yesterday Germany broke a 24-year drought - and saved the World Cup for Brazil.
If Argentina had prevailed at the Maracana Stadium yesterday it is unlikely Brazil would ever want to host another tournament. They had to live with the pain of 1950's "Maracanazo" for decades; success for their arch rivals on their turf would have been a bridge too far.
The sub-plots yesterday made for a unique final in Rio de Janeiro. This was Argentina versus Germany and the whole of Brazil.
After Argentina's semifinal win over Holland, the headline in Brazil's biggest daily newspaper had simply read "Arghh!" It was turning into a double nightmare for Brazil; first their team was vanquished and in ruins, and now Argentina was playing for the title in Rio.
The rivalry between the two nations is fierce but Argentina haven't helped themselves during this tournament. Their supporters' World Cup anthem - which has even been sung by the players - begins by asking Brazil how it feels "to have the [football] masters in your backyard".
Over the past few days tens of thousands of Argentine fans have turned Copacabana into a camping ground, sleeping in vehicles parked along the iconic beach front. They brought drums, flares and a lot of attitude, even unveiling a new song celebrating Brazil's seven-goal semifinal massacre.
"There is only one result possible today," said one local sporting a Germany shirt.
"We can't contemplate an Argentinian win."
For a long time in yesterday's match they had to.
Argentina started strongly, abandoning their circumspect approach of previous matches to create the best early chances. Their fans found their voice - reminding everyone that their Tricampeonato (third title) was on.
Their defence, which had steadily improved with every game, looked solid and Germany weren't quite the irresistible force of earlier games. The Europeans were under genuine pressure, something they hadn't felt since the second round game against Algeria.
It turned into a riveting contest. World Cup finals are supposed to be cagey affairs - and have been since the last memorable one in 1986 - but this one rewrote the script with an attacking verve.
The atmosphere was incredible inside the Maracana, although the German fans were almost sidelined. Instead, it was a vocal battle between the massed ranks of La Albiceleste support and the locals, who at times broke into "Ole" chants after a sequence of German passes.
Argentina wasted several chances - has there been a worst miss in a final than Gonzalo Higuain's scuffed attempt? - while Germany's Benedikt Howedes hit the post late in the first half.
Lionel Messi had some brilliant moments, but Argentina needed more from their skipper. Where was the desperation to seize the moment, to grab immortality?
At times he threatened to light up this final - one first-half run was reminiscent of El Diego - and it was surreal to witness 75,000 people hold their breath and fall silent every time he got the ball. But it wasn't enough and will be a long, long road to another final for Messi.
Germany found another gear in extra time, and looked the more urgent of the two sides. Argentina were tiring - though the South Americans had the best chance in the first period of extra time, with substitute Rodrigo Palacio wasting a golden chance.
Mario Gotze made him and Argentina pay, with a composed, classic goal in the 113th minute. Argentine post-mortems will examine how Andre Schuerrle was allowed to run almost 50m and get a cross in but Gotze's finish, from a tight angle, was exquisite.
It was a fitting way to crown this tournament and the best strike seen in a decider for many years.
Germany now have four World Cups and with their young squad few would bet against them equalling Brazil's mark of five in 2018.