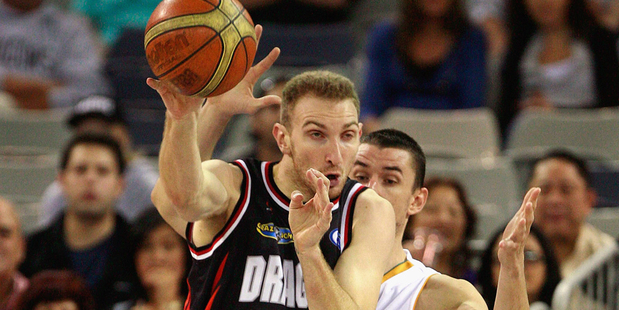 Nick Horvath still has some international basketball left in his legs.
The Manawatu Jets centre has been one of the most dominant figures in the National Basketball League in recent years but hasn't pulled on the Tall Blacks singlet since 2008.
Horvath took time off to attend teacher's college in 2010 but wasn't invited to trial for the national side by coach Nenad Vucinic in 2011 and 2012 - a snub that motivated the big man.
Family commitments meant that Horvath, a physics teacher at Palmerston North Boys' High School, wasn't available last year but after pulling down 15.9 rebounds per game in this season's NBL, he couldn't be overlooked again.
The 33-year-old is in Vucinic's 17-strong squad for the three-match home series against Korea this week and is battling veteran Casey Frank to be the naturalised player in New Zealand's World Cup squad.
The global tournament starts in Spain in August and Fiba-sanctioned events allow only one naturalised player per team.
"It's going to be great to get out there and represent New Zealand again, I'm really excited about it," the American-born Horvath said.
Frank will miss tonight's opener in Wellington against Korea due to a calf problem, which will give Horvath the early jump to convince Vucinic he is worthy of a spot on his final roster for Spain.
"Obviously it's a big opportunity either way," Horvath said. "It's a bummer with Casey, I didn't want to sort of sneak in the back door to the spot on the team but I'm really looking forward to playing against someone other than ourselves. We've been practising so much against ourselves."
Horvath also said there was no ill-feeling towards Vucinic and the pair had cleared up any differences over his previous non-selection.
"We sent a couple of emails back and forth," Horvath said. "We are past it. I don't think there was any bad blood or anything. It was what it was."
Frank's ailment wasn't the only injury concern Vucinic had with point guard Jarrod Kenny also out due to an ankle injury. Tai Webster's delayed arrival from the US means he is likely to sit out tonight's game.
With Kenny and Webster out, Lindsay Tait and Josh Bloxham will share point guard duties.
The Koreans, ranked 31st in the world to New Zealand's 19, arrived in the capital on Sunday.
The squads
Tall Blacks
(from) Thomas Abercrombie, Benny Anthony, Everard Bartlett, Joshua Bloxham, Isaac Fotu, Nick Horvath, Kirk Penney, Alex Pledger, Jack Salt, Lindsay Tait, Tohi Smith-Milner, Mika Vukona, Corey Webster, Tai Wynyard.
Korea
(from) Sun Hyung Kim, Dong Geun Yang, Chan Hee Park, Jun Yong Choi, Sung Min Cho, Hee Jong Yang, Jin Soo Choi, Tae Jong Moon, Se Keun Oh, Jong Kyu Kim, Jae Seok Jang, Seoung Hyun Lee, Jong Hyun Lee, Joo Sung Kim.