Martin takes stage, Gallopin leads overall as top riders save energy for mountain.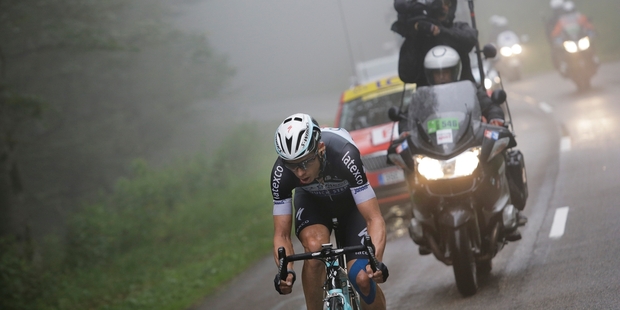 The first major mountain-top finish in the 2014 Tour de France today could see a host of fireworks, of the two-wheeled variety as well as the more conventional ones the French always like to ignite on Bastille Day.
Yesterday's second stage through the Vosges saw all the major favourites ease back to conserve their strength for today's tougher mountain stage, with victory going to lone breakaway Tony Martin.
Top-placed favourite Vincenzo Nibali, meanwhile, made the strategic choice to cede the overall lead to France's Tony Gallopin.
Gallopin is not considered a real threat overall, and is not expected to hold the lead for more than a few days at most. However, for Nibali - who in turn retained a healthy two-minute margin over the rest of the overall favourites - the Frenchman's Lotto-Belisol squad will be an invaluable ally in controlling the race in today's arduous 161km mountain stage.
Seven classified climbs, culminating with the exceptionally steep first category 6km ascent to La Planche des Belles Filles, look certain to see the Italian come under major pressure. Alberto Contador already squeezed three seconds off the Sicilian's lead in Saturday's sharp uphill finish, and even before Sunday's stage he was warning he would stage another major attack today.
There is certainly a historical precedent for big changes overall on today's final climb, situated deep in the Vosges mountains. La Planche des Belles Filles was first tackled in the 2012 Tour, where after a dramatic show of collective strength by Team Sky, Chris Froome claimed the stage win, while Sir Bradley Wiggins moved into yellow - and kept it all the way to Paris.
With Froome now absent, of those favourites present in 2014, Nibali will be feeling particularly encouraged, knowing he took fourth on the same climb in the 2012 Tour, seven seconds down on Froome, while Sky's Richie Porte was 13th, 1:14 back.
However, comparisons with 2012 can only go so far: July La Planche des Belles Filles was preceded only by two minor mountain climbs, rather than a full-scale series of ascents like in 2014. Porte, meanwhile, was working as a team helper for Wiggins and Froome, rather than racing for himself. Perhaps even more importantly, in 2012 Alberto Contador - at the moment, albeit by a narrow advantage, currently looking the strongest of the Tour favourites in the mountains - was not present.
Yesterday's stage win was claimed in impressive fashion by Mark Cavendish's German teammate Tony Martin, who shed his breakaway companion Alessandro de Marchi 60km from the line and then soloed to victory.
To some, Martin's dropping of his breakaway companion with 90 minutes racing and two tough mountain climbs left to tackle might have seemed unwise. However, the 29-year-old is not unfamiliar with measuring his strength in this kind of long-distance, lone attack.
The multiple World Time-Trial Champion came within a whisker of succeeding in a very similar stage-long lone move in the Vuelta a Espana last year, and in the Tour of the Basque Country this April, he finally triumphed with another 11km lone break.
This time, though, the German's move was much longer, starting in the dripping pinewoods of the Vosges mountains on the Cote de Markstein, then over the mist-shrouded summit of the Grand Ballon.
Appropriately enough, the city of Mulhouse is situated just a few dozen kilometres from the German border, and en route to his victory Martin - nicknamed Der Panzerwagen (which translates to tank) - was roared through villages with distinctly Germanic sounding names, such as Uffholtz, Wittelsheim and Lutterbach.
"Being so close to Germany, with so many fans from my country, made it very special," said Martin, whose Omega Pharma-Quick Step team have won two stages in three days.
Tony Gallopin, meanwhile, gave the French something to cheer for on today's Bastille Day as the Lotto-Belisol rider formed part of a 25-man chasing group which gained time on week-long leader Nibali.
Gallopin's group finished nearly five minutes ahead of Nibali and the main pack, giving him an overall advantage of 1 minute and 34 seconds on the Italian.
However, Gallopin's chances ofretaining the yellow jersey are thought to be minimal: last year the 25-year-old finished 58th in the Tour, his best ever finish and he is not considered a favourite.
Overall standings
1. Tony Gallopin (FRA/LTB) 38hr 4min 38sec
2. Vincenzo Nibali (ITA/AST) 1:34
3. Tiago Machado (POR/TNE) 2:40
154. Jack Bauer (NZL/GRS) 1:15:35