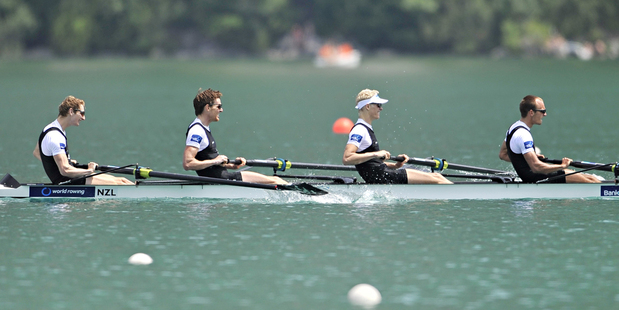 New Zealand's successful lightweight men's four are expecting the competition to close right up as the world championships draw near.
The quartet of James Hunter, Peter Taylor, James Lassche and Curtis Rapley won their second World Cup final of the year in Lucerne last night, part of a bumper night for the New Zealand elite rowing group.
Six golds were won from 11 A finals, others to grab wins including both single scullers, Mahe Drysdale and Emma Twigg, the unbeatable men's pair of Hamish Bond and Eric Murray, lightweight single sculler Julia Edward and the women's double of Zoe Stevenson and Fiona Bourke.
New Zealand has won the World Cup crown after finishing the three regattas with 141 points, 15 clear of Britain with Australia third on 125.
At the team's last World Cup showing in Aiguebelette, France last month they claimed six medals - five gold and one bronze, preceded by five medals at the opening cup regatta in Sydney in March.
For the lightweight four, it followed victory at Aiguebelette. This time the margin was just 2.7 seconds over second-placed Denmark and third finishers Britain.
That's the same finishing order as in France and Rapley knows things are about to get tougher.
''We seem to be the heavyweights in our field I guess. But having said that in six weeks' time at the worlds, Australia will get a lot quicker, the French will be quicker so you've got to keep an eye on all of them," Rapley, who sits in the stroke seat said last night.
''But things are going well. These results are really awesome and we are confident going towards the worlds."
Last year, the four finished second in the world final behind the Danes, with Britain third.
They had won the second and third World Cups at Eton and Lucerne respectively, with the Danes second both times. Now lessons have been absorbed, perhaps the key being pacing themselves.
''You understand how long the season it and how much work is involved. This time last year we might have been peaking. Now we've still got so much we can be working on and still finding improvements."
The key last night was a blistering third quarter, when the New Zealand four eased clear and made the race their own.
''I guess in the New Zealand training programme we do a lot of kilometres, up and down lake Karapiro and in the third quarter when you're under the pump that's when those long kilos really showed."
New Zealand had 12 crews in 11 A finals.
The best finish of the day came from Bourke and Stevenson, who roared home in the final 500m, having been fifth at the three-quarter mark, to win in 6:59.870, just .610s ahead of arch rivals Lithuania.
The Lithuanians twice pipped Bourke and Stevenson during last year's campaign.
Olympic champion Drysdale beat his tough Czech Republic rival Ondrej Synek by almost 3s; Bond and Murray were too good again, heading home the British pair by 9s; while Twigg beat Australian Kim Crow to the line by 2s.
New Zealand had two crews in the women's pair final, and took silver and bronze places behind Britain's Olympic champions Helen Glover and Heather Stanning.
The mild surprise was that the No 2 ranked combination of Grace Prendergast and Kerri Gowler, both under 23 rowers, finished second, 2s behind the winners and 5s ahead of Louise Trappitt and Rebecca Scown.
Elsewhere there was a bronze for the women's quad, a fourth for the men's equivalent and a sixth placing from men's double Karl and Robbie Manson.
Crews now have another ix weeks training, splitting into two camps - one in Switzerland followed by four weeks at Hazewinkel in Belgium, the other heading for Slovenia - before reassembling for the worlds in Amsterdam from Aujgust 24.