Finals spot looks a good bet as team put their deficiencies in attack behind them.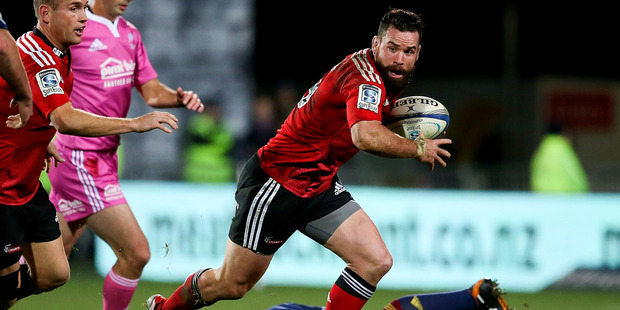 The Crusaders' attack has probably been their Achilles heel this season, but they are looking a lot more balanced now and have an ominous momentum heading into the finals.
Matt Todd is a real threat in close, and I don't say that only because he scored two tries against the Highlanders. His running angles are effective, and we all know what Kieran Read can do with his offloading.
Ryan Crotty looks like he enjoys the extra space out one position at centre, and of course Dan Carter, Israel Dagg and Nemani Nadolo are fantastic attacking weapons.
Across the board they are looking very threatening with the ball in hand. We all know what the Crusaders can do without the ball.
Early on, the Highlanders had a slight dominance in terms of territory and ball, but they never looked like they were going to score. They couldn't get within the Crusaders' 22m which goes to show how well drilled the home side were.
They didn't absorb, they were aggressive on defence and that impressed me. Time and again the Highlanders went back in very good, technical tackles.
The Crusaders still have challenges. There are quality teams in the top six, probably the best we've seen. There is the travel element, but they don't have to deal with that until after the semis and there is a possibility they could have a home final. The Waratahs are unlikely to be toppled in their semifinal but it's certainly looking as if the Crusaders will get to the final.
There's been a lot of talk about the Blues and their tactics against the Chiefs. I must say I was slightly surprised by their decisions not to take the gift points. They had a target of winning by more than 38 points in order to make the playoffs, but you do have the ability to accumulate points without scoring tries. Maybe they got lured into the situation.
In any case, I think they were trying to get there the wrong way. They looked like they had the ability and they did get across the line several times in the first half, but they didn't score.
For all of that early dominance against the defending champions, the Blues didn't have anything to show for it. It might have played on their minds, and they had a different mindset in second half, but by then the horse had bolted.
The Blues look like a team building something, but they don't have that belief the Chiefs or Crusaders have - not yet, anyway.
A win would have given them a perfect record at Eden Park this season. It's always nice to have something positive to finish on. The Chiefs aren't an easy nut to crack and to beat them would have been an achievement. Maybe that should have been a priority earlier in the match.
You have to say the Highlanders' season has already been a success. I bumped into Jamie Joseph and Tony Brown just before kickoff in Christchurch and the word that came out of my mouth, perhaps inappropriately before such a big game, was "congratulations". The fact that they had secured a playoff spot before the last round was superb.
Their squad is built on a genuine star in Ben Smith, and very good players in Aaron Smith and Malakai Fekitoa, but they have few other big names. They have got the best out of Patrick Osborne and Richard Buckman. They have punched above their weight and that's a real testament to their culture and belief. I wouldn't dismiss them winning in Durban. They've already done it this year so I wouldn't write them off.