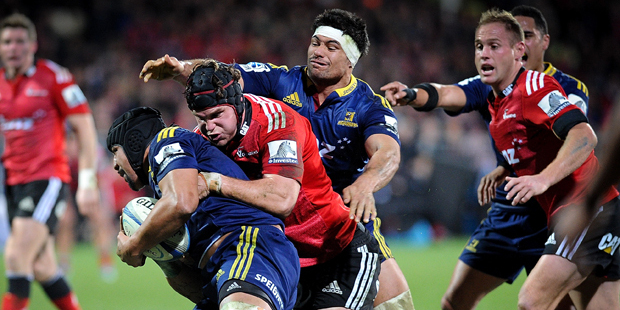 The Highlanders are down but not out. Having claimed the final playoff spot despite losing to the Crusaders they are on their way to Durban with, crucially, their fullback and talisman Ben Smith.
Jamie Joseph will be confident Smith will be ready for Sunday morning's qualifier against the Sharks after his absence on the field in Christchurch through an infected leg. The Highlanders missed his spark at the back and his presence at Kings Park will be imperative if they are to continue their already successful journey this season.
The Highlanders would do well to put the 34-8 thrashing at the hands of the Crusaders behind them, but the Sharks are unlikely to let them. Jake White's men, masters of the tight stuff and having got back on to winning ways with their 34-10 win over the Stormers in Cape Town, will have seen the way the Highlanders' set piece was ruthlessly dismantled by the Crusaders and are unlikely to stray too far from the template provided by Todd Blackadder's men.
"It is disappointing," Joseph said. "In many cases we were outplayed.
"For me it came down to our set piece. [We were] absorbing all the pressure the Crusaders were putting on us, but when it was our turn to put pressure on them we couldn't win our own ball.
"When you play the best teams in the competition you have to play at your best. I'm not sure we've done that.
"Both teams we've played against the last two weeks [Crusaders and Waratahs] we've struggled to win our own ball or clean ball.
"When we've done that, for example against the Chiefs the week before, we've scored some good set piece tries, as we have all year. I guess that comes down to pressure and the big moments in the big games."
Captain Nasi Manu said: "As forwards we weren't quite there at the set piece."
"They're a quality side and they played well, they really stretched us.
"Whether we might have been thinking too far ahead and weren't quite there, it's hard to measure, but the positives are we're still in the playoffs and we've got a big week ahead of us."
The Highlanders beat the Sharks in Durban 34-18 in April, which came as a surprise, and that result will be of comfort to Joseph, who not surprisingly is expecting a Crusaders-type approach from the South Africans.
"They'll kick it a bit. They'll maul us.
"Their game plan is pretty simple and they are a big pressure team."
- APNZ