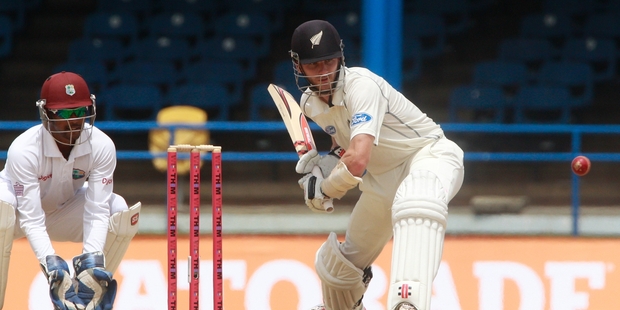 Kane Williamson is proof you don't need myriad Twenty20 franchise contracts to make a decent living from cricket.
In the annual challenge to pit wits against the selectors and guess the order of the New Zealand Cricket contracted player list, the Herald on Sunday understands Ross Taylor, Brendon McCullum, Tim Southee and Williamson filled the top four places but not necessarily in that order.
Players are ranked across each format by selectors Mike Hesson and Bruce Edgar, with tests receiving twice the weighting of one-day and twenty20 internationals. The 20 highest aggregate scores are offered national contracts.
Even if Williamson is fourth on that list, he would earn an NZC salary in the vicinity of $175,000 with the top ranked player banking around $195,000.
Add international match payments, an English county contract and a gear endorsement deal and the forecast of Williamson's earnings in the coming year calculates to more than half a million dollars without having to don the gaudy colours of any international Twenty20 circus.
That anoints him as a poster child for cricket purists. Williamson's income potential is not in the bracket of Taylor, McCullum and Corey Anderson who, form permitting, can expect to earn closer to $1 million, but it's a solid retainer enabling him to focus on building a test legacy which is paramount to NZC fortunes.
The 23-year-old compiled 992 runs at 66.13 in the past year, including four of his seven centuries. He did not get out for less than 42 in the first innings of his nine tests.
Such a focus on batting perfection in the longer format has hardly hindered him in the abridged forms. Williamson averaged 54 in nine ODIs and sits on an unbeaten streak of five consecutive half-centuries. One more will equal Andrew Jones' New Zealand record. In T20Is, he averaged 40.40 with a strike rate of 124 from six matches.
Sources claim an English county deal, like Williamson's with Yorkshire, would be worth around 70,000 ($136,000).
It is paid on a pro rata basis, so matches missed during the West Indies tour would be omitted which might also be a factor next year with New Zealand touring England in May and June. However, as with an IPL deal there is the prospect of minimising living and travel expenses and maximising savings.
New Zealand are scheduled to play seven tests (which receive an $8000 match fee), 28 ODIs ($3500) and three T20Is ($2300) in the coming year.
The ODI quota could increase if they progress to the later rounds of the World Cup. Using those figures, and if Williamson plays 90 per cent of the time, he stands to earn $144,810. Many shoe, clothing and gear deals are based on a contra arrangement these days but sources estimate sponsorship for someone of Williamson's experience should net about $50,000 with Gray-Nicolls. Players are often paid on a pro rata basis for matches where their gear gains exposure. A standard clause is written in, saying a player has to face at least one delivery.
Individual endorsement deals with sponsors are also rarer. Generally it's an area only All Blacks or top Olympians tend to inhabit in New Zealand.
Often work with sponsors is done under the NZC contract umbrella like when players had to squish up on a couch several years back in a scene where they 'decided what Sky channel to watch'.
However, it's believed they get paid on a per diem basis for any method acting.