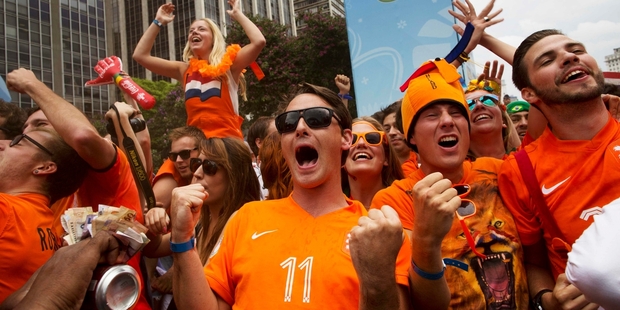 If you feel like this World Cup has been more dramatic than most, you're right. Before this morning's third place playoff, nine of the 14 knockout matches had gone to extra time. It's a new tournament record, surpassing the eight extended games that were played at Italia 90. There have also been more penalty shootouts than normal, with the total of four so far at this World Cup equalled only in 2006 and 1990.

Panel with no peer
In another example of the extraordinary coverage of this tournament, one local television network has brought together surely the most star studded expert panel in football history. Four World Cup winning captains - Carlos Alberto (1970), Daniel Passarella (1978), Lothar Matthaus (1990) and Fabio Cannavaro (2006) — assemble every night for a live studio discussion of the day's action, with simultaneous translation of their words of wisdom for the Brazilian audience.
Pizza ... in a cone
There is no end to food innovations here, and we found one of the best in Salvador. An ice cream parlour offered pizza in a cone, and it's actually a great idea, making the normally difficult task of pizza consumption on the run possible. Other culinary highlights this week were peanut ice blocks and orange and strawberry juice.
Beaten Brazil savaged

Fred has been derided as the worst No 9 Brazil has ever fielded. Photo / AP
Brazil's 7-1 loss to Germany was the seventh worst defeat of all time in World Cups, putting them in the company of such footballing powerhouses as Zaire, Cuba and Haiti. The team was savaged by the local media, with one newspaper giving ratings of 0 to seven players and 1 to the others. They were subtitled with headings like 'lost', 'nervous', 'vanished' and simply 'who?' for hapless striker Fred, who has been declared the worst number nine in the history of the Selecao.
Fake Dutch fans
Compared to other tournaments, there has been few problems between rival fans at this World Cup. However, there was a surprising clash last week though, when a quartet of Australians covered head to toe in orange (complete with face paint), reacted badly when they were accused of being 'fake Dutch fans' by a group of Oranje supporters. Things threatened to get nasty — as bemused locals looked on — before the police intervened to separate the two groups.
Hungary for success
While we wonder about Oceania's future World Cup path, it was humbling to get the perspective of a Hungarian journalist last week. The eastern European country was a force in the game in the 1950s and 1960s and still rank in the top 20 historically in terms of World Cup matches won. But they last qualified for Fifa's showpiece in 1986 and have come close only once since (making the playoffs in 1993), with our scribe admitting it would "take a miracle" for Hungary to feature again.
Everything has a goal
You know you are in Brazil when even the large rubbish bins that are placed on streets during match days have goal nets at the back of them. It's supposed to encourage locals to dispose of their litter appropriately but does not always work. One local female journalist wondered if things could be taken a step further, with nets around the edges of toilet bowls in bathrooms, to improve the chances of greater accuracy.
World famous in Peru?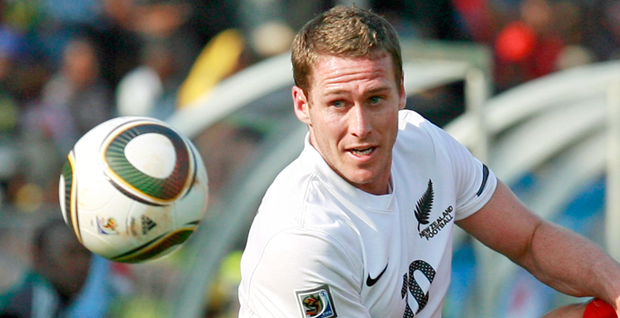 Chris Killen has a Peruvian fan. Photo / NZ Herald
A Peruvian journalist was excited to see my New Zealand T-shirt as we chatted in the press box before a game last week . "I'm a big fan of New Zealand football," he said. "You have some great players." Expecting to discuss Winston Reid, Marco Rojas, Ryan Nelsen or perhaps even Wynton Rufer, it was a surprise when he nominated striker Chris Killen as his favourite All White.