Passionate football fans are showing their true colours ahead of Monday's match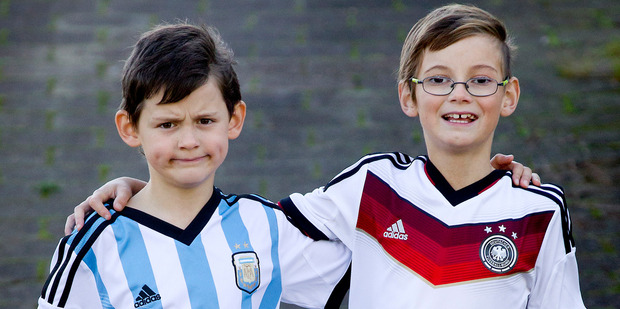 Before the first Fifa World Cup game kicked off, brothers Liam and Ryan McCracken visited a local sports outlet to choose a team jumper each.
Little did they know they had predicted the tournament's finalists.
Liam, 10, chose the German jersey, while Ryan, 7, chose Argentina.
Sibling rivalry has now reached its peak ahead of Monday's final match.
Ryan said he chose Argentina because they had Lionel Messi, and had won the Cup before.
And Liam said two of his favourite Arsenal players were in the German team, and Germany's away strip was almost all white — a nod to his true team, the All Whites.
Their mother, Maree McCracken, said their father Geoff was to blame for the football fever.
"He is an avid football fan, having played it in his youth."
Liam plays 11th grade football for Hamilton's Western Rangers while Ryan plays 8th grade for the city's West Ninjas.
Mrs McCracken said both teams were unbeaten in their respective grades this year.
"They play football in the lounge continuously when the game's not on and both boys are convinced their team is going to win."
Their younger brother, 3-year-old Connor, hasn't yet got an allegiance, Mrs McCracken said.
The family planned to watch the final at home over a "World Cup breakfast" of pancakes and porridge — the boys' favourite.
Meanwhile, former All Black Marc Ellis is praying for the result that will guarantee his Argentine wife's happiness.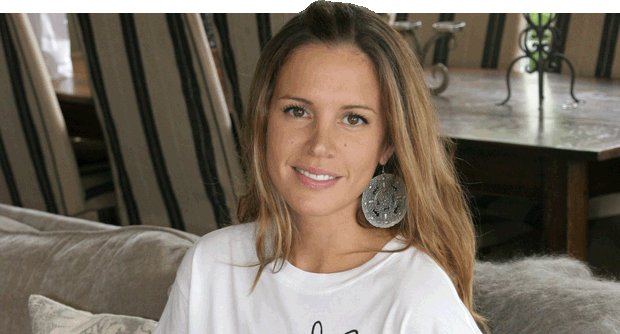 Agustina Mon, wife of former All Black Marc Ellis, watched the Argentina v Netherlands semifinal tensely.
Jewellery designer Agustina Mon has been following her home team throughout the tournament and has been crying for joy as her team continued to get through each round.
Thursday morning's semifinal match between Netherlands and Argentina — which came down to a penalty shoot-out — was intense in their household, Ellis said.
They had to explain to their 4-year-old daughter, Sofia, why mum was crying.
"My wife started crying ... and my daughter started crying — thinking she was sad. So we had to tell her pretty quickly: 'No, no, these are tears of joy'," he said.
Speaking of the passionate fans often shown crying on television, Ellis said his wife had the same temperament. "I'll be running out of the house if they lose, put it that way," he laughed.
The family, which also includes 3-year-old son Tomas, have Argentine football jerseys and blue and white flags to show off their allegiance.
German fan Petra Myhill, 33, is preparing to back her country full-heartedly on Monday.
Mrs Myhill and husband Ian have just moved back to Auckland two weeks ago after living in Germany for two years.
"The German flags are everywhere there. Cars have little flags attached to their windscreen wipers and it's just crazy — you can't escape it."
Dream role for avid young fan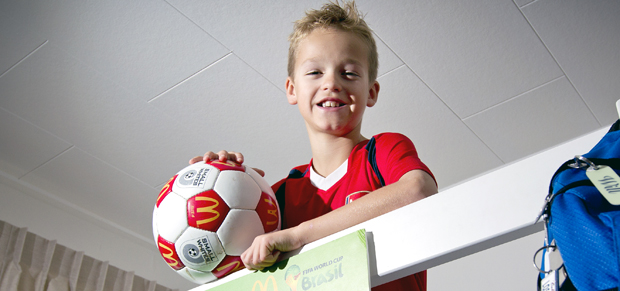 Will Richardson is a huge football fan. Photo / Sarah Ivey
Ten-year-old Will Richardson's dream is to walk Argentine footballer Lionel Messi on to the pitch in the World Cup final. And he's within reaching distance of doing so.
Will and his mother Victoria yesterday boarded a plane bound for Rio de Janeiro and the Fifa World Cup final where he will join 21 other children from around the world who won a competition to walk a player on to the pitch.
"His dream is to walk Lionel Messi on to the pitch — that would be every kid's dream, I think. He picked Argentina from the beginning, it's his favourite team," said Mrs Richardson.
The youngsters have not yet been told what players they will be accompanying.
Will, who lives in St Heliers, has been up early watching all the games.
"He's football mad so he knows all the players and teams," Mrs Richardson said. The pair will shop for presents for his "very jealous" teammates.
"They have already put their shopping orders in — they want shirts mainly — Van Persie, Hulk, all the different shirts that kids want."
Will won the trip for two in May after entering a competition at a McDonald's Day event.
All Whites Tim Payne, 20, and Matt Ridenton, 18, surprised him with the good news weeks later at a training session at Liston Park.
Mrs Richardson's husband Craig will join extended family with their other two children to watch the game at home.

The final
• Sides: Argentina v Germany, Estadio do Maracana, Rio de Janeiro.
• Players to watch: Argentina: Lionel Messi (ranked as best player in the world); Germany: Miroslav Klose (star goal-scorer).
• TV times: Coverage from 6.00am Monday on TVOne, 6.20am Sky Sport, channel 55.
• TAB odds: Germany $1.57 Argentina $2.30
• What to wear: Marmite colours if you are supporting Germany. Milk carton colours if it's Argentina.
• Where to watch: SkyCity - Atrium Sports Bar or Sammy's Place, on big screens; Chapel Bar & Bistro - 147 Ponsonby Rd, from 6.30am to 9.30am; or Live at the Pullman.