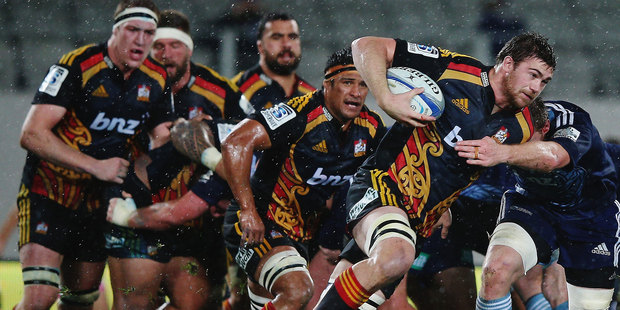 Blues 8
Chiefs 11
The Chiefs have kept their hopes of three consecutive Super Rugby titles alive with a win at Eden Park tonight which owed much to their ruthlessness in the wet and windy conditions and a fair bit to a Blues team who were anything but.
In doing so they consigned the Blues to their first defeat at what was their fortress in a difficult and frustrating season for them. They are out of the playoffs frame now, their miserable night compounded by what was thought to be a calf injury to their warrior Keven Mealamu after only 19 minutes.
Hooker Mealamu, who came on to so much deserved fanfare in his 162nd Super Rugby match, equalling former Wallabies lock Nathan Sharpe's record, cut a disconsolate figure as he limped to the sideline.
A Ma'a Nonu yellow card for a shoulder charge which flattened Tim Nanai-Williams, in what was probably Nonu's final match for the Blues, was another depressing element to a match in which John Kirwan's team got their tactics all wrong in the first half.
A late charge saw George Moala score with 12 minutes remaining to narrow the gap to 11-8 and set up a tight finish but the Blues failed to capitalise. The closeness of the final score will be no consolation. It did provide the Chiefs with a few nervous moments, however.
The home side's defeat also cost the Hurricanes a place in the finals, and heaven knows what the supporters of Mark Hammett's team were thinking as their agonisingly frustrating season also came to an end.
Looking for a miracle win by more than 38 points which would have given them a lifeline, the Blues took leave of their senses in the first 40 minutes, turning down three shots at goal within the first 10 minutes and running everything despite the appalling conditions.
Not once did they kick for territory despite having an extremely strong north easterly wind at their backs and a determined and connected Chiefs' defence in their faces. The Chiefs, needing the victory to continue their season, were never put under sufficient scoreboard pressure.
Steven Luatua, Patrick Tuipulotu, Jerome Kaino and Brendon O'Connor all went close, but they couldn't breach, and as the Chiefs do, they soaked it up and fired it back.
Amazingly, the Blues were still in the contest at the start of the second half, and a change in tactics saw Ihaia West successful with his first shot at goal to equalise, but, as they sought to apply the pressure, a West pass was intercepted by Liam Messam, the All Blacks loose forward going in from 50m.
It was a difficult night for the Blues inside backs Bryn Hall and West, both outplayed by their opposites Tawera Kerr-Barlow and Aaron Cruden.
All Blacks first-five Cruden struggled with a his goalkicking but his running game was on target, as was, crucially, his option taking.
The Blues' scrum impressed early, before going through a tough patch and then coming out on top again, their dominance and the sinbinning of Chiefs lock Mike Fitzgerald helping Moala to his try in the right corner.
Chiefs 11 (Liam Messam try; Aaron Cruden 2 pens)
Blues 8 (George Moala try; Ihaia West pen)
Halftime: 3-0
- APNZ