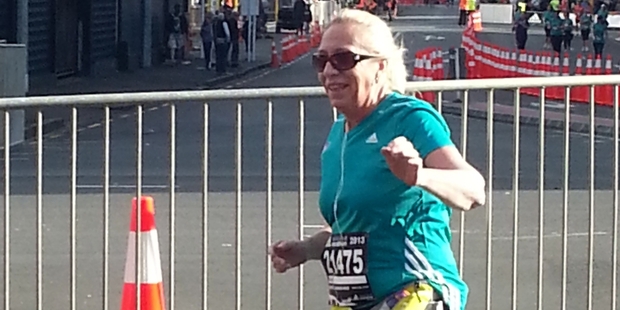 Trish Sutherland admits that she is "scared and petrified" to make her debut in the half-marathon of the Auckland Marathon in November.
"Just thinking about it is starting to make me hyperventilate," joked the 57-year-old office manager.
"I am focusing on how I felt last year while I was running and afterwards, so 'feel the fear and do it anyway' as they say."
Sutherland began her running career in 2013 at the tender age of 56. She took on the quarter-marathon of the Auckland event and completed it in 1h 23m 51s.
It was some achievement for the mother of two, considering she had given up smoking the same year. One of the main reasons she started running was to help with giving up the smokes.
"Before that I would see people running and think to myself: 'Are they mad?'" she said.
"It was just a matter of running until I couldn't run any more, which to start off with was only about two to three lamp-posts."
Sutherland ran a little farther each time and before she knew it she could complete 5km without stopping.
Her overall fitness improved immensely, which helped with other parts of her life. She was sleeping better and had an improved sense of general well-being.
Completing the 10.5km run at the Auckland Marathon with her daughter (quarter-marathon), son-in-law (half-marathon) and son (marathon) was an awesome feeling.
"Knowing that we were doing it as a family, and the buzz you get just from being part of the day and waiting at the finish and watching them finish, is what will get me through the training times ahead."
Signing up for the Unitec Run and Walk Events Series last year helped Sutherland immensely, and she is repeating the routine this year.
It is a series of events designed for runners and walkers of all abilities who are in training for any of the Auckland Marathon events.
The Unitec series is made up of five courses in and around Auckland with a choice of distances at each event to suit all fitness levels.
"It is the official lead-up series to the Auckland Marathon," said race director Richard Lindroos. "It is unique because its sole purpose is to prepare runners and walkers for the Auckland Marathon, who all participate with the same common goal."
The official lead-up series has been going for five years and attracts about 450 to 550 participants to each event.
"You can compete on accurate courses where you can practise race-pacing, hydration and most importantly run with others who are on the same training journey to the Auckland Marathon," said Lindroos.
The first event tomorrow starts with the 10km being the longest distance, and the final end in early October has a longest distance of 32km. There is something for everyone.
Louise Fountain found the series very motivating as she began her running career.
"I was not a runner but had started trying to get fitter after a personal training session the October before," said the 39-year-old, who is a human resources adviser for the Waitemata District Health Board.
Fountain then decided she could cope with a 5km run.
"I couldn't promise I'd finish or complete it non-stop but I needed a fitness goal. I was so surprised and exhilarated when I completed my first ever proper 5km event in 41 minutes."
The Herne Bay resident then booked in for the rest of the Unitec series and the quarter-marathon last November. "I was gutted when I had to have an operation on my wrist and had to pull out."
She has already signed up for the 2014 series and the quarter-marathon in November, which will be a special moment for her and the family.
"On the day, my dad and sister will also be doing the half-marathon. It is going to a real family affair. I love it, it's been so motivating and I'm almost addicted to running now."
Sutherland knows the feeling. She said that after deciding to enter the quarter-marathon, it was time to step up her training and the Unitec series "helped me enormously".
"Each month there was a longer distance to conquer and by the time the last run at Botany came around I was ready to run the 8km. After that run I felt confident that I was ready to tackle the quarter."
This year, Sutherland has entered the two-lap series so after each run she will have a good idea of how her training is going and what her times are for each distance.
By the final event at Sir Barry Curtis Park, she is hopeful that she will be able to complete 16km and that it will have set her up for the half.
"It also brings out the competitive side of me and after each run I would check out who beat me and try to beat their time on the next run so it became a bit of a personal challenge."
Sutherland is not looking back. She had smoked solidly for more than 16 years and is now enjoying a life of fitness and well-being through her newfound passion for running.
She said the main thing about giving up smoking was that you had to be ready to do it.
"Other people can nag you until they are blue in the face and if you aren't ready it is not going to happen," she said.
"So once I had made up my mind I just did it. But in saying that, it was still very hard but worth it in the end."
She offered simple advice for people looking to follow her lead and get into some sort of fitness.
"Do it for yourself first and then your family second. It is all about you and that's okay. It will probably be one of the hardest things you will do in your life but once you come out the other side it will be worth it."
Run and walk
Unitec Auckland Run and Walk Event Series
Event 1: Sunday July 13, Unitec, Mt Albert - Kids 2km, 1 lap 2.5km, 2 laps 5km, 3 laps 7.5km, 4 laps 10km.
Event 2: Sunday August 3, Alexandra Park, Greenlane - Kids 2km, 1 lap 5km, 2 laps 10km, 3 laps 15km, 4 laps 21.1km.
Event 3: Sunday August 24, Ngataringa Park, Bayswater/Devonport - Kids 2km, 1 lap 6km, 2 laps 12km, 3 laps 18km, 4 laps 24km.
Event 4: Sunday September 14, Highbrook Business Park, Highbrook - Kids 2km, 1 lap 7km, 2 laps 14km, 3 laps 21km, 4 laps 28km.
Event 5: Sunday October 5, Sir Barry Curtis Park, Botany - Kids 2km, 1 lap 8km, 2 laps 16km, 3 laps 24km, 4 laps 32km.